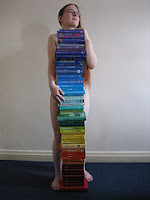 What Books Are You Reading?
I'm a bit of a book nut. Well, probably more than a bit. Here's where I am reading and what I am reading.
In the bathroom: My One Hundred Adventures by Polly Horvath. It's a kids book, well – preteen. It starts out "All summers take me back to the sea. There in the long eelgrass, like bird's eggs waiting to be hatched, my brothers and sister and I sit, grasses higher than our heads, arms and legs like thicker versions of the grass waving in the wind, looking up at the blue washed sky." It's a Junior Library Guild selection. And its very good following Jane on her adventures! Perfect for bathroom reading.
In the kitchen: Sugarettes by Dr. Scott Olson ND and Sugar Busters by a group of people. I'm currently going sugar free and these books have practical advice and help motivate me to continue on this sugar free trip. When I think just one sweet thing won't hurt – I pick up one of these books and start reading. It does help.
Next to my computer space: Ghost Churches of Franklin County by John Beer. The Franklin County Historical Society sponsored this book. It was given to me by a fellow church member. I was a history major in college and find myself still strongly attracted to history, particularly of the area that I live in. This is a trip down the counties growth lane! An excerpt, "The home of Martin Boots was the rendezvous for the settlers religiously inclined, and it was here that Reverends Brown and Olmstead held the first church services. This was in the summer of 1855." In 1855 the only way you got to Franklin County was by walking. Imagine walking halfway across the state of Iowa! The pioneers knew not what they would find, yet they came.
You didn't think I had just one book by my computer did you? Tribes – We Need You To Lead Us by Seth Godin. Seth believes we are all leaders and that anyone who wants to make a difference, can. I'm 1/3 of the way through it and am taking avid notes and putting ideas into practice.
In the bedroom: The Bible I need to read it more often!
By the couch: Animal, Vegetable, Miracle by Barbara Kingsolver  This book tells about one family's year of food life – living off the land. Barabra wrote the central narrative, Steven's side bars talk about food production science and industry and Camille wrote brief essays on local food projects, nutritional information, meal plans and recipes. I believe this book should be in every household! You will take a closer look at the food you buy in the store. I shop out of my garden, from free range farmers and at the local market (farmers and in town) as a result of reading this book.
I have at least five books waiting to be read. I like to be reading at least two books at a time – it depends on what I 'm in the mood to read!
I support my local independent book store, The Kaleidoscope in Hampton (www.ourfocusisyou.com). 
Www.indiebound.org has this to say about Why Shop Indie?
When you shop at independently owned business, your entire community benefits:
The Economy
Spend $100 at a local and $68 of that stays in your community. Spend the same $100 at a national chain (in town) and your community only sees $43

Local businesses create higher paying jobs for our neighbors

More of your taxes are reinvested in your community – where they belong
The Environment
Buying local means less packaging, less transportation and a smaller carbon footprint

Shopping in a local business district means less infrastructure, less maintenance, and more money to beautify your community
The Community
Local retailers are your friends and neighbors – support them and they'll support you

Local businesses donate to charities at more than twice the rate of national chains

More independents means more choice, more diversity, and a truly unique community

Now is the time to stand up and join your fellow individuals in the Indie Bound mission supporting

local businesses and celebrating independents.

Books are love pic by janetmck at www.flickr.com