We do eat in small towns. We don't meet if we don't eat! Church potlucks, fundraisers of all sorts, events downtown – you'll often find food on the menu of activities. Many communities have unique kinds of food that you can find in their areas.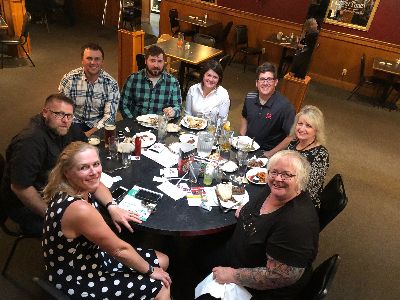 Chislic is a traditional dish of cubed meat commonly found in South Dakota.
I had this wonderful dish, made from lamb and spiced with garlic and who knows what, at dinner during the RuralX Conference. Freeman, SD hosts an annual Chislic festival (it's July 27th this year). http://www.experiencefreemansd.com/south-dakota-chislic-festival
One day at Rural X we had lunch provided by the Sioux Chef.
Sean Sherman, Oglala Lakota, born in Pine Ridge, SD, has been cooking across the US and World for the last 30 years.  His main culinary focus has been on the revitalization and awareness of indigenous foods systems in a modern culinary context. We were served cedar braised bison, wild greens salad with berry sauce, maple roasted squash, wild rice cakes, sun butter cookies, wild game stew and cedar maple tea. I ate everything, and it was delicious! http://sioux-chef.com/
The World Championship Goat Cook-off is held in Brady, Texas every year.
You can go Labor Day weekend for the 46th year. Brady is only 5,300 people yet they have 206 teams that come (and a 90-team waiting list) and over 10,000 people come to town. For goat. http://www.worldchampionshipgoatcookoff.com/
Olean, MO has the Testicle Festival and Highwood, IL has the Garlic Fest. Then there's the Eelpout Festival in Walker, MN. Fall festivals abound and feature apples, pumpkins, squash and more. Look for Enchanted Acres in Sheffield, Iowa and National Apple Harvest Festival in Biglerville, PA. Plenty of nuts out there too. Groves Pecan Festival in Groves, TX and you can find chestnuts roasting on an open fire at the Chestnut Festival in Rowlesburg, West Virginia.
We eat in small towns.
In fact, we eat and party around food in small towns. For many towns, these events are the highlight of the year and helps to bring tourists to town. Can you create a festival in your town around food? Of course, you can. Start the Idea Friendly way.
Choose a food (Big Idea)
Invite people you know and tell them to bring chairs (Gather Your Crowd)
Prepare the food, have your crowd help, and serve it in the park, or your backyard, or on the sidewalk downtown!  (Take Small Steps)
Repeat next year and invite more people.
It really can be that simple.  
Brady, Texas festival started with 16 teams who wanted to raise money for the County Jaycees. The 130 people in Olean, Mo started 25 years ago cooking testicles as a community event. Today over 2,000 people come to town. Most of these food festivals do start that way – as a community event. It's a time to have a little fun, eat good food and raise some money for something. They weren't thinking about 'how can we make this a bigger event.' We know that community happens when people talk to each other, and food is a great conversation starter.