I think this was the first vacation I took that required no extensive planning.  I flew, went to the beach, drank coffee and rested.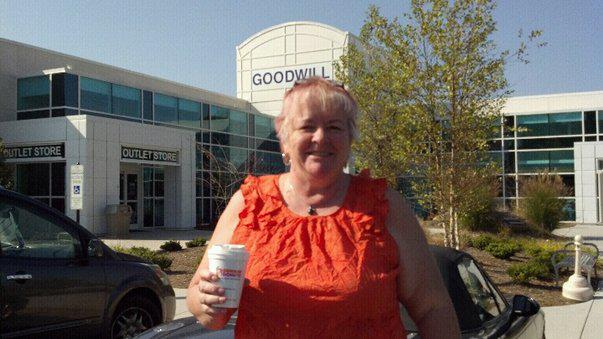 The weather was just about perfect, a couple of warm days and then a couple of cool days and nothing lower than 50 degrees.  Lisa and I shopped the Goodwill outlet (yes, outlet and everything is weighed and sold there), Habitat for Humanity Restore (where I got some fabulous drawer pulls) and of course drank Dunkin Donuts coffee everywhere we went.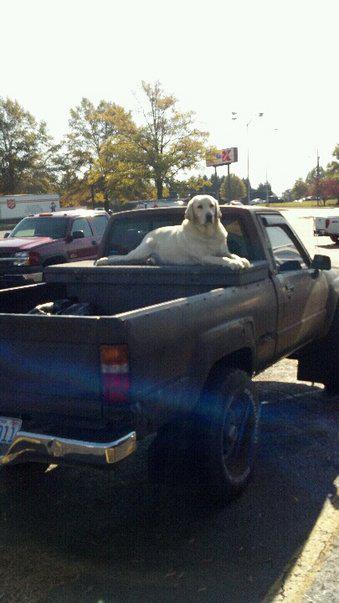 We parked the car beside this beautiful dog and he graciously sat upon the tool box and was there when we came back out.  The trees were just turning colors and in full splendor.  Driving to TopSail Island along Interstate 40 was a stunning trip.  Most major roads in North Carolina are lined with trees.  You can be on an Interstate in Winston-Salem and think you are out in the country, because all you see is trees.  I'm thankful it was fall, and the reds, yellows, greens and browns created a vista worth drolling over.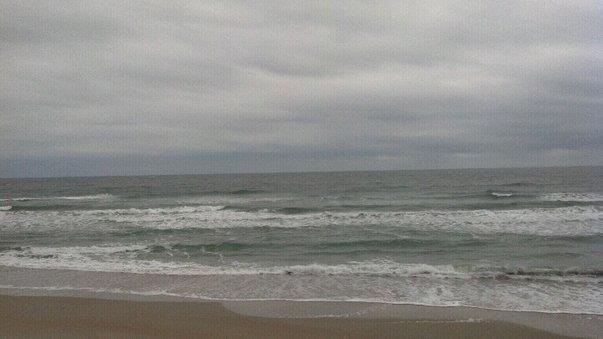 The ocean – soothes my savage soul.  We were staying 1/2 block from the beach and had to walk uphill to the landing area that had a staircase that led to the sandy beach.  Friday night we stopped at the beach and it was overcast and cool.  No matter.  Just sitting in our chairs listening to the waves crash in was enough for me.  The kids played in the sand, the old guys fished and Lisa and I talked.  3 years of not seeing each other, there was a lot to catch up on.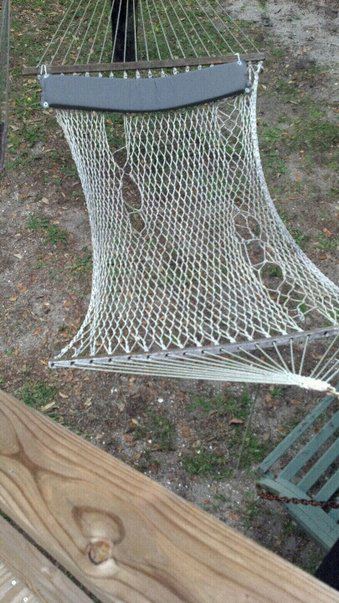 The Tree Spirit vacation home had a hammock in the back yard.  I love hammocks!  They represent relaxation to me.  You have to work hard to get into them safely, but once there — the joy, peace and relaxation of it all is worth it.  I read two books, slept in a four poster bed, stayed in bed late, walked the beach, drank coffee and ate when I was hungry.  Lovely week.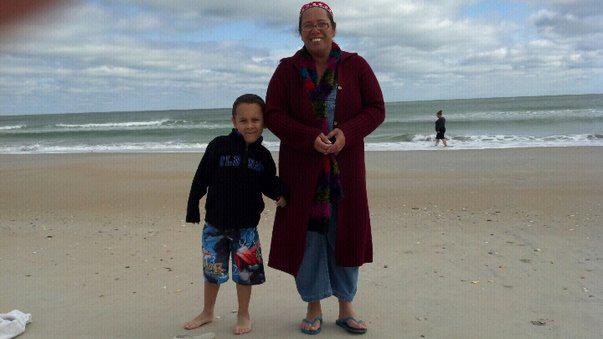 Lisa (with her son Eddie) made this trip possible.  I had been wanting to see her for quite a while, and we live 1/2 way across the country from each other.  She got me on a plane and said "Don't worry about a thing – I got you covered."  Much love to that girl – she knows I need the ocean to breathe right, makes the perfect cup of coffee, keeps peanut butter in her cabinet for me and we know how to laugh together.  My dreams for you is that you too have a forever friend.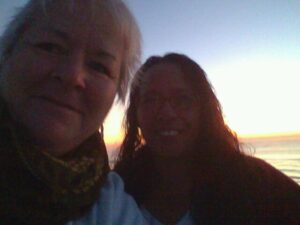 Saturday morning just after 7 we went to the beach.  It was dark yet and no sooner had we gotten out of the door and we heard this noise.  Like a freight train bearing down on us.  What the heck?  As we got to the top of the stairs, we realized that noise was the ocean.  It was overcast and stormy – and the waves were huge and noisy.  Amazing.  Sunday we left the house at the same time, and we could see no clouds in the just lightening sky.  Finally – a sunrise on the ocean.  Magnificent!  I carry the image of the sun rising in a little pocket just behind my heart – for those cold days when I need a little warming up.