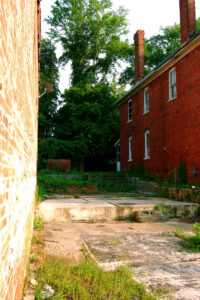 Last night Becky and I hosted our 4th webinar, Empty Lots and Roofless Buildings, what to do with them.  One of the items on the program was #BuildHereNow.  It's a hashtag program started by the Strong Towns people that emphasize empty lots.  Granted, they are emphasizing lots in larger cities like New Orleans and Baltimore.  If you got to twitter and search for the hashtag #buildherenow you'll see many pictures, links and ideas for ways to utilize the empty lots and the possibilities for them.
The idea is to build walkable, livable communities and to better use the spaces available, including the empty lots.  We covered a lot of territory last night and our listeners are beginning to share ideas with us of things the are already doing with their empty lots.
I'm proposing that you share your ideas with a hashtag – #UseEmptyLots!  Not only your ideas, but your pictures, your stories and your successes.  We want to hear about them, we want to share them and we want to see what the small towns are doing.
Do you receive my weekly email?  Sign up here!