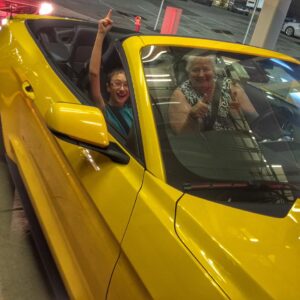 Vacation, we all need to vacate.
I'm in North Carolina with my 11 year old great nephew and yesterday we were en-route.  On the way, at midnight at the Budget rent-a-car we had to make a very tough decision.  Should we keep the Mazda, or spend an extra $100 dollars and take the Mustang?
It's only money people.  For one week, we decided that it was worth letting our hair blow in the wind and enjoy the vacation even more.
I encourage you to do the same, spend some time enjoying the day – your life passes by very quickly.  Take care of yourselves, live the biggest, best life.  Eat well, and not to excess.  Walk more and visit more.  Treasure time with friends and family.  These are the things that make your life.
Next week we will talk about working out with friends, weight lifting and strength training – today I'm going to the beach to swim in the ocean!