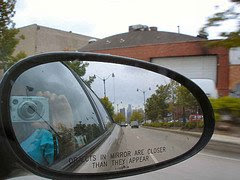 Top Ten Reasons
2.  
To actually meet the speakers that I follow on twitter
.  Chris Brogan, Brian Clark, Chris Cree, Chris Garrett, Glenda Watson Hyatt, Julian Smith, Terry Starbucker, Liz Strauss — just to name a few.
3.
To meet my some of my twitter friends
like Becky McCray, Amber Naslund, Robert Hruzek, Jon Swanson — just to name a few more.
4.
To come home with some kick ass business blog planning
for my local community.
5.
To take my okay by me blog and turn it into a powerful business tool
.
6.
To meet the Chicago social media scene
– I consider Chicago my second home.
7.  
To see what the sponsors have to offer
.  I'm already working with some of their sites – and excited to see what their futures are looking like.
8.
To hang out with really cool people in the best city in the world
!  
9.
To exchange ideas, create possibilities and bring it all home
.
10.  
Because I just have to.
Why are you going?