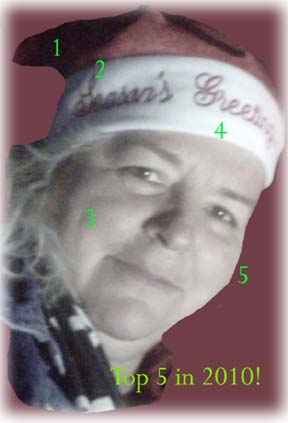 Thanks to Google analytics I can find out what were the top 5 links visited on my page this year.
The results proved to be interesting.
Number 1 was a blog I wrote for a group writing project sponsored by www.middlezonemusings.com  I talked about Alzheimers.  That was back in March.  In May my dad went into the nursing home because he has Alzheimers.  It's been a journey for my family that I won't recommend to anyone.
Number 2 was the information for the Historical Tour of Homes we had this month.  I think it's a clue for me that local people are looking at my blog.  It was a great tour!
Number 3 was the blog post about our Winter Wine Walk.  It was the first time we had a wine walk in our community, and over 140 people attended.  Now I know there's some local folks reading my blog.
Number 4 is my Portfolio page, surprisingly.  I think bloggers fall into the habit of ignoring that page.  We write it and throw it up there.  I've recently updated by Portfolio page and have scheduled to update it every 3 months.  People are reading it!
Number 5 is a guest post from Christine Kane – You teach people how to treat you.  Christine ends the article with this sentence:
This article won't be popular among your co-workers and friends. That's because we're taught to "be nice" more than we are taught to "be big."
Where in life are you being nice instead of being big?  I'm taking a look at that right now!