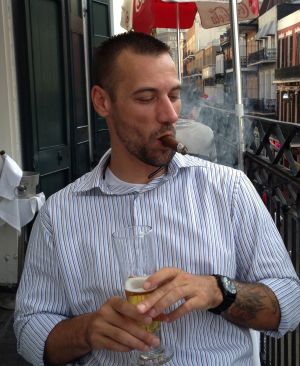 Today we lay to rest my nephew Eric Leaman.  I was blessed to know him for the last ten years as he was the fiance of my niece Sarah.  Certainly at 35, he was too young to die.  (The reasons why are still unknown, but it's believed its tied to Kawasaki Disease he had as a child.)
His obituary was written by Sarah and his brothers and sisters and describes his life well.  It's hard to put into a short paragraph or two how one man lived his life and affected those around him.  Eric was a testosterone laden kind of guy.  He was certainly strong and opinionated.  But he was also a loving uncle and dad and would do ANYTHING for his family.  He filled my nieces life with joy and happiness.  He loved my mom and hugged her every time he saw her and once gave her a motorcycle ride.  His brothers and sisters and him were all very close and spent lots and lots of time together, and they adopted Sarah as one of their own.  Eric was never happier when he could be surrounded by those he loved, but he'd never tell you that.  He'd be furious that I'm writing this on my blog, but he'd get over it.  He would understand my need to do so and grumble just a little.  
Grief is certainly a process that each and everyone of us will go through.  We all handle it in our own ways.  I've spent the last several days at my niece's house with her, staying overnight and being a soft spot for her to land when she needs to.  We've talked about many things and I hope that I am helping her in the process of grieving, it's what I can offer her.  We also discussed things people can do to help the family who's just lost someone.
1. Don't say "I feel so sorry for you."  It makes me think you won't believe I'll be okay.  Give me a hug.  Tell me you're thinking about me, or praying for us.
2. Don't just bring food.  Put it in tupperware so we can freeze it and eat it in the following weeks.  I don't feel like eating right now, and I won't feel like cooking for awhile.  I can run the microwave.
3. Don't ask me to call you if I need anything.  Just figure out what I need, and do it.
Shovel snow or mow the yard.
Clean my bathroom.
Take me grocery shopping.
Take the kids on a play date somewhere.
4.  If I'm crying, please let me cry.  Cry with me if you want.  Hand me a tissue.  But don't tell me not to cry.
Rest in peace Eric. 
Eric Wayne Leaman was born on April 18, 1978, in Osage, the son of Steven and Shawn (Willis) Leaman. He attended and graduated from Mason City High School among the class of 1996.
On June 27, 1996, Eric was inducted into the United States Navy in Des Moines. While serving in December of 2000 Eric would be blessed with the birth of his son, Brian. He faithfully served his country until his Honorable Discharge on June 26, 2001.
Following his return to Iowa, Eric enrolled at Hamilton College in Mason City where he studied Information Technology, graduating in 2005. In May 2005 Eric began working for ABCM Corp. as an IT Consultant, where he was employed until his death.
While attending Hamilton College Eric met the love of his life, best friend, and soul mate, Sarah During. They were blessed with nearly 10 years and together they enjoyed raising Brian, Wednesday night date nights, and traveling. Brian came first and foremost in Eric's life; he was his pride and joy. Eric also enjoyed the company of their two dogs, Max and Bell.
In his free time Eric loved spending time with his family and spoiling his nieces and nephews. Eric had a good sense of humor and loved joking around. He enjoyed playing video games and was a movie buff, as well as riding his motorcycles and target practice with both guns and bow and arrow. Eric was a talented artist who enjoyed sketching, tattooing, and spending countless hours crafting custom wood and acrylic pens.
Those grateful in sharing in his life are his fiancée, Sarah During, Mason City; his son, Brian Leaman, Mason City; parents, Steven and Shawn Leaman, Mason City; siblings, Brian (Jennifer) Leaman, Woodstock, Ill., Patrick (Shannon) Leaman, Mason City, Crystal (Chuck) Nelson, Mason City, and Sheena (Jon) Ebbers, Mason City; grandmother, Dixie (Al) Willis; nieces and nephews, Madison, Samantha, Ashley, Michael, Ali, Alex, Cheyenne, Leo, Sydney Rae, Tammy Amanda, Jet, Steven, Hailey, Natalie, and Hunter; aunts and uncles, Eleanor (Sid), Tim (Lorraine), Heidi (Jeff), Wayne (Brenda), Rex, Dawn (David), Clint, Marcie (Jay), Quint (Diane), and Deb; mother- and father-in-law, Jon and Judy During; grandmother-in-law, Shirley; sisters-in-law, Jacque (Devin), and Lorraine; as well as many cousins and extended relatives and friends.
Eric is preceded in death by his father, Steven Leaman; his paternal grandparents, Ralph and Patricia Leaman; his grandfathers, Wayne Willis and Ben During, and his uncle, Mike Leaman.