I'm headed to Fargo next week.  This is the third year for me, headed to the Misfit Conf.  It's a handcrafted event for artists, troublemakers and general riff raff.  Designed, organized, crafted and presented as a true art treasure that it is by the Misfits, headed by AJ and Melissa Leon.
AJ says "Misfit is a deliberately small event handcrafted to help you walk out and make a dent in the Universe.
It is an experience that centers around a mixture of inspiring and tactical talks given by some of the galaxy's most brilliant minds, but it is wrapped in art and film and culinary thoughtfulness. The attendee to speaker ratio is roughy 4:1. There is no live streaming, no videos of talks and no laptops allowed in the room. Oh, and the coffee is amazing. Last year, we had accountants, iOS developers, filmmakers, marketers, dog trainers, artists, moccasin makers and even a blacksmith, all descend upon Fargo with one singular ethos – to live life with intention and to do work that truly matters."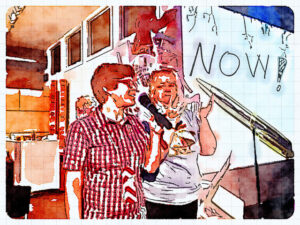 They are my tribe.  People who are not afraid to try things and fail.  People who encourage expression and favor beauty.  People who enjoy the same kind of weird, existential movies I do.  People who insist you be your best and tell your story.  People who know they matter and can make a difference in the universe.
I leave Misfit Conf each year and come home loaded for bear.  We add new things to our chamber and for our members that make our corner of the world just a little better.  I stay in touch with my Misfits and find ways to put a dent in the universe.  We write books, create art, share stories, encourage others and live a beautiful life – because we know we can.
I gush on and on – but frankly, this tribe is worth gushing about.  Israel Smith is traveling Australia in a bus with his wife and two children – for two years (or is it three?).  He's a photographer and she's a food expert (for kids).  They made a decision to give their kids years that will change their entire perspective of the world.  Years.  Scott Meyer was tired of how his city was being run.  Instead of complaining he ran for city council.  And won.  He's showing his daughter (and future child) that one person can make a difference.  Greg Tehvan started Emerging Prairie and is changing how the world looks at Fargo.  Jackie Shelley decided she is an artist, and she is.  Painting pictures with wine, drawing tattoos for friends, traveling and loving – she is my Jackie.  Gigi Peterkin, marketing expert extraordinaire, chose to go off on her own and create a company that not only does fabulous work but allows her to be as big as she can be.  The stories go on and on.  These people inspire me.  They move me.  They love me.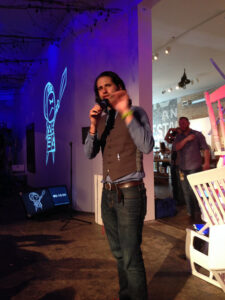 I stumbled upon my tribe the day I met Aj and Melissa in New York.  They were wearing backpacks and had just gotten back from Africa.  They raised money to build a well and save lives.  Their story is fascinating and one for another day.  I began following them, reading their work, watching (stalking?) them.  When the announcement for the first conference went up, I was in.
Now I encourage you to step out of your comfort zone.  Participate.  Find your tribe.  Speak to strangers.  Attend conferences that interest you.  Read more.  Create your own tribe if you need to.  Definitely participate, make this world a better place to live.