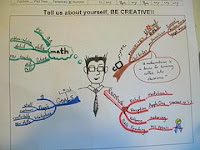 What are you doing today?  
I'm at Cruzanne's house – creating what my year will look like.  
We are starting with a glass of limoncello.  Then going to make a
MINDMAP
.  I want to create one for how to use Twitter to further my business.   
I've got a lot of projects this year. 
I'm working on revising the Brown Brogan Project.  
It is all about a shared database and helping each other grow our business.  
I'll be going sugar free for 30 days
with Doctor Scott and several citizens in my town.  We welcome all comers!  
There are trips planned
for Chicago in February, Paris in June, Chicago again in July, Orlando in August and want to fit in Atlanta somewhere.  
Blogging will continue
– as close to every day as possible.
I'm improving my walking and talking skills – and creating new business partners this year
.  To the tune of Senior Director with my company.
What are you doing this year?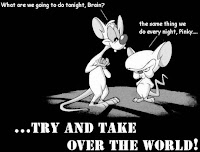 My answer would be: 
What we do every night Pinkie, try and take over the world!