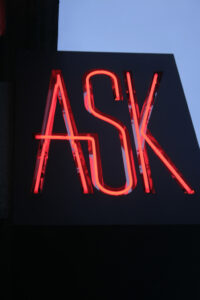 You have a business.  You need customers.  If someone were to ask you "how can I refer people to you?" would you have an answer?
The right answer is NOT "we want everyone to come here."
Your perfect customer is not everyone.  Take the time to reflect on the products you offer.  Who are your customers?  Who do you best serve?
Then write that statement down.
Here's an example.  I own a tshirt company and make my own designs and also sell tshirts in the front end of the store.  So the back of the store is where production happens and the front of the store is where retail happens.  Here's my statement:
We can take your own design or create a personalized design just for you and make tshirts for special events, gatherings, sports groups and more.  Our company is competitively priced, provides quick service and are right here in town.  Need a last minute gift or want a fun tshirt for yourself?  Stop in our retail store and choose from our wide selection of tshirts as well.
Those four sentences have just made up the elevator speech for my tshirt business (I don't have one, its just an example).
It's also what you'll say when you are at networking events, when you speak at your local Rotary, Kiwanis, Elks, etc. events.  When you join the Chamber – you'll ask them to share this statement about your company.  It's your ask.
You have to be able to tell people what you do, and who your customer is.  Now go write your own ask.
(Want to make my ask even shorter? My customer needs unique, fun tshirts and we bend over backwards to help them!)