I've known Eddie Cristobal since he was born four months early. He was tiny tiny tiny – and he lived. He's been a little pistol since then! Eddie is now 7 years old and leading a charge to help his hometown of Keyport, NJ have a Christmas.
Eddie and his mom live in North Carolina now.  When he heard the hurricane was coming he was worried about his hometown of Keyport, New Jersey.  Would the hurricane hit them?  What would happen to all the places he played at as a small child?  Would his friends be ok?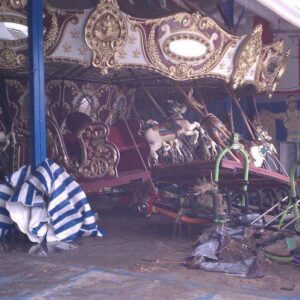 As it turned out, Keyport did get hit and hit hard by the hurricane.  The damage was major.  He asked him mom if he could see some pictures.  Lisa showed him where he used to play.  The carousel he rode was bent, broken and in pieces.  Eddie asked his mom "Who is going to fix this?  Who will take care of it?"  Lisa answered him with "Don't worry, they'll take care of it honey."
Eddie looked at his mom and said "Mommy, who is they?  It's us, isn't it?"
That was the beginning of Eddie's outreach program.  Eddie wants to raise $5000 by December 14 so he can send the money to Keyport so kids there will have Christmas gifts.  He's set up a change for change program at his local school – the kids are all donating change to help Keyport.  He's had posters made and him and his mom hangout at the malls on the weekend asking people to give.  He's made a facebook page and website.  As of Tuesday, November 20, Eddie has raised over $700.
Hubbard, Iowa school teacher Sarah Nachazel contacted Eddie's mom and her 7th and 8th graders are having bake sales, fundraisers and collecting change to help Eddie.  They just started last week and have raised over $200.  Firefighter Amy Harris of Winston-Salem, NC designed his website for him.
You can find Eddies Facebook page at https://www.facebook.com/KeyportReliefFund.
You can find Eddies website at http://keyportrelief.wix.com/loveeddie#!home/mainPage
The Keyport police have said they need money or time.  Take a look at Eddie's links and please give.
I'm thankful that a 7 year old saw a need, knew who had to help fix it and is doing something.  It's a powerful lesson for all of us.