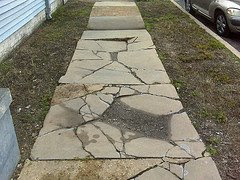 Chris Brogan
is one of my go to guys for all things social media.  He recommended I  read a blog called Levite Chronicles written by
Jon
Swanson
.  Today Jon wrote about this sidewalk.  Hes part of a writing group led by
Robert Hruzek
.  Today the assignment was to write about
What I Learned From a Sidewalk.
Did you see that?
All those people?
 That's a network
.  A loose one.  We are surrounded by loose networks.
 Its really up to us to decide if we want to strengthen the network or leave it loose.  
I shop at an independent bookstore called the Kaliedoscope.  It's in my home town.  My friend
Denise
told me about the store.  I may not have found it because it's on a side street.  The first time I went there, the owner was there.  
Keri
was nice and very knowledgeable about books.   I spent quite a bit of time there and eventually became friends with Keri. 
Keri told me about
Judy
who owns another store, Cornerstone Cottage.  I never would have shopped there on my own.  It's a gift store, fun store, cool store!  Now I shop there because Keri told me about Judy.  Now Judy and I are friends.
Judy told me about her friend
Karolyn
.  She thought Karolyn might like to know more about what I do.  I called her.  She's a client of mine now.  
The network is Denise-Keri-Judy-Karolyn.  It's a network I've worked on strengthening.
 If I didn't hang out at the bookstore, no friendship would have developed between Keri and myself — so no Keri-Judy-Karolyn.
So I see networking like walking sidewalks.
 You can just walk on the sidewalk you know and keep seeing the things you are used to seeing.  Or you can stop and visit a friend.  Turn at the corner and see what's down that street.  Make a left and go to the park.  
My point?
Denise, Keri, Judy, Karolyn are all clients of mine.  Now.  We are a network.
 The detours I took introduced me to remarkable women who recognized the value I bring to the table – and they joined my network.  
Are you building networks?