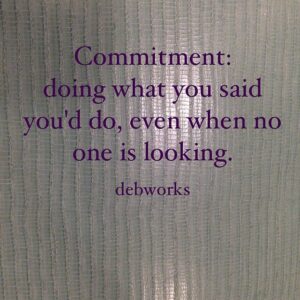 Made it through the week and kept my calories in check!  Have NOT had a Diet Mountain Dew, took my vitamins every day, had a protein shake every day, had GC Control every day — and I'm a week in.
What does that mean, one week in?  For me – it means I committed to this week, I made it through with no real difficulty and I'm good.
What made this week any different from any other week?
Commitment.  I said I'd keep track of my calories, exercise, take my vitamins and not drink Diet Dew.  I did that, even when no one was looking.  I had a chance to back out, give myself excuses and let it slide.
Each day I chose to be honest with myself, to treat myself well. One week in.
Next week looks like this:
Fitranks 1 Test on Monday night with Randy the Trainer.
Travel to South Dakota Wednesday through Friday.  Travel to my Uncle's grandson's graduation with my mom on Saturday.  Mother's Day on Sunday.  Plenty of opportunity to fall off the wagon, cheat a little, give myself a break.
I'm committing to taking care of myself, eating well, following my caloric intake, exercising and enjoying the trips.   One week at a time.  Bring it on.