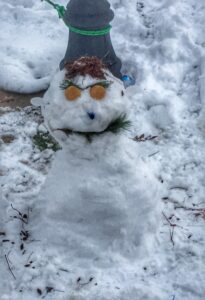 For the past month I've been working on tackling one thing at a time.  I'm attending a mini course offered by a local integrative medicine clinic that meets 5 times as a group and twice with the director individually.  We address issues and work on treatment options for weight loss.  It's not learning how to eat properly, because frankly we already know how to do that.  We are learning things like how to use breathing exercises to breath through tense moments.  We're looking at the things that trigger eating habits.  We're finding methods that can replace other methods.
The thing, the one thing, that I'm working on is finding ways to eat better.  That's it – finding ways to enjoy good food.  I have Irritable Bowel Syndrome and for me that means when I eat bread and sugary things I spend too much time in the bathroom – and it's not fun.  I'm also not a fan of vegetables.  So I'm trying new things, eating some vegetables I haven't eaten since I was a kid.  I'm not automatically saying no.  I'm trying things.  I didn't eat bread for two weeks and last Saturday I had some.  I spent the day in the bathroom.  Yup, now I know that we are not friends.  I know that if I eat bread, I need to plan on some alone and miserable time.  I also ate sweet potatoes at Thanksgiving – and they were delicious!  I had a breakfast casserole with diced onions and diced peppers in it (so tiny I couldn't see it) and I liked it.
One thing at a time.