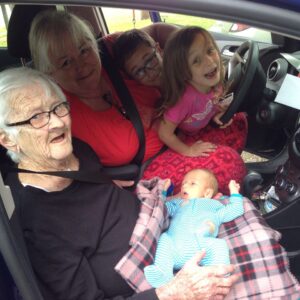 My great nephew and I are on a plane from NC to Iowa, coming home from vacation.  We swam a lot, walked even more, ate well and had a great time.
We considered not going because my mom is so sick.  She insisted I take that 10 year old boy to NYC and have a great time, she'd be here when we got back.  We talk several times every day and last week she said when I got back she wanted to go on hospice.  No more hospital visits.  It was just too much for her.  I said ok.  It's her life after all, and she gets to say what she wants.
This morning she told me she was still here, but she didn't know for how long.  Her nurse and my friend said it's time to let her really call the shots.  So tonight we put her on hospice.  I don't know how long we are talking, I don't know much at all as I sit here on this plane.  I only know it won't be long now, and I can't stop crying.
If you pray, don't pray for me.  Pray that my mom's journey is as smooth as it can be. Don't tell me you are sorry.  I know that already.  Go hug your own loved ones.  Think of my mom and smile – because that is what she would want.
And for God's sake, put that cigarette down.  Mom is losing her battle with COPD and Congestive Heart Failure – each cigarette she smoked hastened that journey.