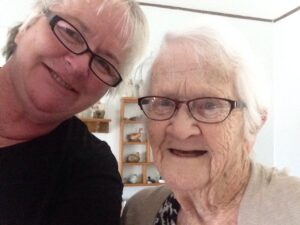 Let's talk about life changes and how important it is to keep your head above the water line.  Monday I turned 60.  No big deal, just another year.  Well .. apparently not.  Mark Horvath said today "just because you bury toxic waste that doesn't mean it goes away."  This whole business of being happy no matter what doesn't always work.
Now mind you, I'm not really sad.  I have a great life – a job I love, a career I'm growing, new and old friends who truly matter and family that love me.  You'd think that would be enough.  Human nature has us strive always for more.  I've been thinking about legacy, what do I want to leave behind.  Morbidity is on my mind – my mom is facing the last days of her life, and her world is getting smaller and smaller.  Has she done all she wants to? No – she wants to take more road trips with me, and that won't happen.  She can't breath well, and each breath gets harder and harder.  COPD and Congestive Heart Failure – it's not pretty.  She was diagnosed June 1, 2012 – and we've done all we can to live fully and travel as much as we can.
I could say I'll live to be 100.  I could fart rainbows and daisies too.  But the truth is, it's not up to me.  Oh I'm a player – but I don't have the last card.  There are days, like this weekend when I've been sick with a sinus and ear infection, when I wonder – why do I keep trying?  Is weight loss or good health ever going to be possible for me?  It's so much work!  Yet, I ate pretty good this week. I didn't ride my bike because I've coughed nonstop for days.  I'm trying it again tomorrow.  It's like I feel a big change coming … and I'm not sure I want it to come.  One day my mom will be gone, and I'll be the oldest in my immediate family.  It's scary, and I will miss her so very much.
I have never been good at waiting.  But then, why am I even waiting for her death now?  Why am I not celebrating life with her? I am, I am.  I hold her hand all the time.  I answer her questions over and over.  Yesterday she told me she hates it – hates it when she can't remember things, when she is confused.  My mother has never been confused in her life – and not knowing if its day or night, her table mates spouses names, where her great grandmother is buried – these are the things that are bothering her.  I told her that in the 1960's they took drugs to be confused.  That I would now call her my hippie mother.  She liked that.
I can't fix her, I can only be with her.  Talk to her every time she calls.  Tell her stories about our family history.  Hold her hand.  That will have to be enough. And my legacy?  What if I just woke up every day and have the intention that this day I will love, I will make a difference?