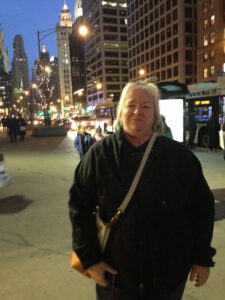 I missed you last week.  I didn't post last Sunday, nor did I catch up.  Sometimes life gets in the way.  I took last week off.  It was my niece's 30th birthday and we drove to Chicago.  We ate in Greektown on Friday, had HomeRun Inn pizza on Saturday and breakfast at the Melrose on Sunday.  Every meal was way over calorie counts for the day.  And you know what?  I just didn't care.
I reconnected with old friends.  I spent an entire weekend with my niece.  We walked all over the city and laughed a lot.  I got to see my son and give him a big hug and hold his hand.
Sometimes, you just need to get away and relax for a bit.  That is what I did.  I hope you can do that too.
This past week I've hit my steps goal and have upped the count by another 1000 steps.  I received my Vionic gym shoes and am inordinately pleased with their performance and look.  I'm back to tracking calories as well and coming in under the number.  It's been a week of just going along with the flow and the flow has finally come into place for me.  After months of 'working on it', it's become a habit to track calories, get my steps in and eating better.  And you know what?  I miss exercising!  I still can't lift weights because of the bruised elbow.  I am happy for the warmer weather – so I can walk outside and swing those arms like crazy!
I'm back in the saddle — here's hoping you will be too.