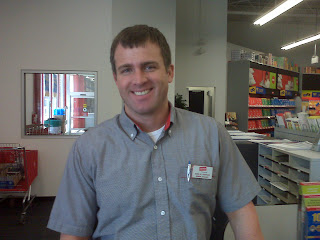 I had to buy a router today.  It's to put in my mom's house.  She has DSL and a very old computer.  I have satellite and a brand new laptop.  It will be great to work from her house.  Faster speed and mom and dad are happy to have me there.  They've both promised to wear their hearing aids when I'm there.
So
we head off to Mason City and the local Staples
(don't worry, I checked my hometown first – no one had a router).  
I got a headset for my cordless phone, some really cool post it strips and then went to the router aisle.
 I was confused.  Too many choices
.  I looked up to see a young man on the phone watching me.  I nodded at him and pointed to the aisle.  
He nodded back and raised one finger.  In Iowa that means "hold on a minute, let me finish this and I'll be right there
".  (If you're driving and someone raises one finger at you – besides the middle finger – that means hello.  Just so you know.)
Thomas came over and helped me make an informed decision on the router.
 He also told me he didn't like one brand because it was difficult to install.  Thomas looked at the headset I was holding and asked me was I sure I wanted that one.  We then traveled to the headset aisle and he pointed out the benefits of the Plantronics M175C headset.  For an additional $8 I would get an over the head piece and an ear piece.  I could mute by mic and increase the volume as well.  And there's noise cancelling in the microphone.  I spent the extra $8.
It came time to check out.  There were 2 registers in use (with one customer each).  I was willing to wait.  However,
Darin Suntken, the store manager said he could ring me up.
 He did so.  Darin also asked me how was my service.  I explained Thomas was fine and helpful, even though he was on the phone when I waved him over.  Darin told me "he's a good kid.  Smart.  Sometimes you gotta get him to move – thanks for doing that.  We're happy to have you shop here."
Wow!  
Now there's a little honesty in that conversation
.  Not to mention he didn't want any customer waiting for service, so he opened up a register just for me.  Then — he asked me if I had a StaplesRewards card.  I said no, and don't worry about it (thinking here's another credit card I don't need).  Darin said they are free, you'll save 10% on ink, toner and paper, and copy center purchases right away. They come with all kinds of benefits and you can find more info at
www.staplesrewards.com  
Will I recommend Staples at 3440 4th St SW in Mason City Iowa?  You betcha.  Tell Darin I said hi. 
picture is of Darin Suntken, store manager