There's a couple of social media conferences coming to Iowa in 2012.  I'm lucky in that I'll be speaking at both!
Jody Halsted and the Amana Colonies are hosting the Social Technology Conference at the Amana Colonies – and you won't want to miss this one.  Geared towards small businesses, there will be a lot to learn to help promote your business and move it forward.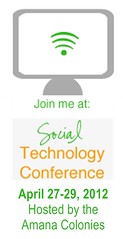 The 140 Character Conference is back again in Des Moines on April 23.  Mark your calendars, we are in the planning stages now – and will have more updates soon.  It will be a one day event and focusing on the Technology of Now.   You can see what we did last year at http://desmoines2011.140conf.com/
Those are just two — do you know of anymore?