Did you know more people are leaving big cities and moving to small towns? Why is that?
There are several easy answers:
Lower cost of living
Recreational offerings like trails, beaches, and mountains
Smaller and better schools
Safer streets
No traffic and shorter commutes to work
What are some of the benefits of moving from a big city to a smaller town?
Small towns are seeing 25- to 40-year-olds coming back to their hometowns. Why? They want to raise their kids in a safe environment, where they grew up. They are working from home and can do that anywhere. Their parents need their help now. Also, they have a stronger hand in creating the kind of town they want to live in. The opportunities are there. These people bring with them the knowledge, access to a strong network of professionals and the desire to do work that matters.
How do you find these newcomers, these young people?
When our kids graduate high school we throw them a big party and we can see how many are leaving. What if we threw a party when they come back?
Not actually a party, but for sure a Newcomers Gathering. In Bennettsville, SC they hold one once or twice a year. The realtors personally invite the folks they sold homes or rented homes to come. Of course there's some kind of food! Then the newcomers get to meet each other, ask questions of the locals who are there. Things like 'can I burn my garbage' or 'who should I talk to about starting a new business.' This is a perfect opportunity for your nonprofits to visit and share some ways these new folks get could more involved.
Red Lodge, Montana holds newcomer gatherings too. They are an outdoor activity kind of town, and they share lots of information on participating in those kind of events.
What are some reasons why you might NOT want to move from a big city to a smaller town?
The great urban/rural divide has many misconceptions. These misconceptions keep city people in their cities. Two of the most common are:
Only rednecks live in small, rural towns. This is a lie that is told over and over in the current political climate, from a negative and positive viewpoint. The truth is there are many kinds of people that live in small towns!
There's nothing to do in small towns. Again, not true. Recreational opportunities abound, even in towns without beaches or mountains. Many towns have community theater, well known artists, and cultural activities.
It's important for small towns to tell their stories. Tourists are looking to experience something different. And not just tourists, but locals and newcomers are too.
What stories does your town have to tell?
Here's a few things about moving to a small town I've noticed in my work.
I lived in Chicago in my 20's and 30's. I'm from a town of 141 people in Iowa, and access to things like museums and galleries was exciting. I love the Museum of Science and Industry. Yet, 9 out of 10 times when I asked locals if they had been there, they said no.
Access to culture is not the same as experiencing culture.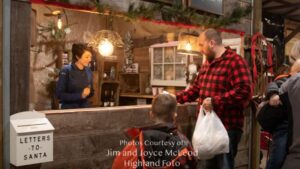 I work in small towns around the world and see more residents involved in their local experiences than I ever saw in a city. In Columbiana, Ohio the local theater puts on productions with actors that have special needs. This town was voted nicest town in the United States. It's where Harvey Firestone is from, their museum is one of a kind.
In Mt. Ayr, Iowa there are a group of young parents that are working together to bring new businesses to town. These are businesses now owned by their peers.
Timberville, Virginia has an outdoor Christmas Village. It brings thousands to town to buy roasted coffee, handmade artisan goods made by locals and Ethiopian cuisine, plus more.
These places aren't unique, most small towns have character and culture. One has to look for it or create it.