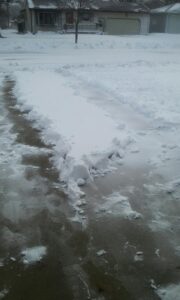 The entire county is pretty much shut down.  It's not the snow – 4 inches of snow is nothing really.  But those winds of 50 mph gusting are creating some havoc for sure.  I slept in late (7 for me is late), made a leisurely breakfast, read my email and got on Facebook.  Then I added sweat pants to my flannel pj's ensemble, put on a coat, hat and gloves and began shoveling.  A few shovels, a sip of coffee, take a pic or two – there's no hurry today.  And I tell you its a bit of a workout!
1/2 way through the shoveling a good looking man shows up and says "I thought you were at work already!  Sorry I'm late – let me just get that for you."  That's what he did too – three sweeps and he was done.
Last fall I talked to Dave Harms about snow removal.  He owns Four Oak Enterprises and he said he had lots of customers in my neck of the woods and he'd be happy to swing by and clean out my driveway.  $5 for under 2 inches, $10 for over 2 inches, and if a lot, we'll work it out.  He'll bill me, oh – whenever he gets around to it.  Depends on how many times he'll come by.
I had forgotten about Dave this morning.  He really thought I was at work at the Chamber (Brook, my boss, is known to swing by and pick people up and take them to work).  While chatting, we decided to move me up the ladder because I do get up so early.
S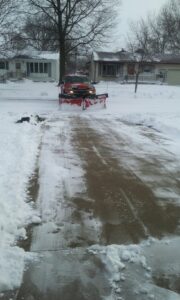 o today we are celebrating Small Biz Friday: Four Oak Enterprises.  Dave does his job well, treats his customers like favored family and works hard to please everyone.  There are many small business lessons to be learned from Dave:
find a price point that works for everyone
deliver your service promptly
treat your customers well
love your job and smile alot!
You can reach Dave at 641-456-4293.  He's kinda busy today – but he will call you back!