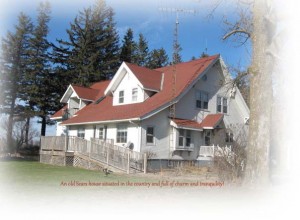 1n 1921 Carl Borcherding built a house.  It's believed to be a mail order house from Sears and Roebuck.  This house was on the family farm and three generations lived in it before it became the bed and breakfast it is today.
Donnis Borcherding, her daughter Lacey Elphic and family friend Crystal Cross now run the place as a bed and breakfast.  There are 7 bedrooms, and 6 bathrooms – but two of the bedrooms are inhabited by Lacey and her sister Renee.  You can see pictures of the rooms at www.countryheritagebb.com
I could talk on and on about the bed and breakfast, give you details and share prices — but the website does a great job of that.  I think you'd rather hear what some of the things these small town entrepreneurs have done to promote their business.
1. Lacey and Crystal cooked a breakfast treat (homemade of course) and delivered them to local businesses along with information about the B and B.  They wanted people to know they were open, and that they also prepared food for their guests!
2. They participated in the bloggers tour the past two years.  The Harvest Tour rented out the entire house at a great price and provided all the bloggers to stay in one central location.  On Sunday, all three owners prepared a brunch for everyone — it was their treat!
3. Donnis joined the local Tourism Board, and is now the President this year.  She has helped volunteer at events throughout the country and has been a strong board President.
4. They redid their website to include a blog.  The blog keeps their previous visitors up to date on events and activities in the country and lets them know the owners are serious about providing a beautiful, homey place to stay.
5. They started a newsletter using Mailchimp.  This is a new step for them, and they are working on creating a newsletter that is interesting, fun and compelling.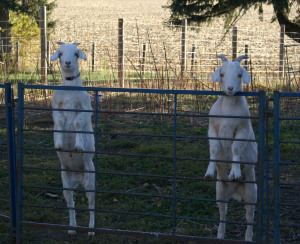 6. They have two goats.  That's right.  Goats.  Kids love them, the goats talk to you and it's a wonderful attraction!
So if you need a place to stay on your journeys in North Central Iowa – I recommend Country Heritage Bed and Breakfast!
Welcome to Small Biz Friday – where we feature a small, local business doing things in a smalltown kind of way.  Don't be thrown by the word smalltown – it simply means they've learned how to develop relationships with their customers, take good care of them and treat them like family — it's what we do in small towns