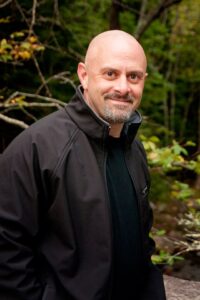 Rob Hatch is the President of Owner Media Group; he's much like the Wizard of Oz.  The guy behind the curtain.  Lots of people have heard of Chris Brogan, but fewer know of Rob Hatch.  I had the great pleasure of spending a couple of hours on the phone with Rob and he allowed me to pepper him with questions.  The italicized part of this interview is my questions to Rob.
How often do you get asked "Who are you?"  Most people want to know the basics: where you live, work and about your family.  But I want to know more, lots more.  I already know that you work with Chris Brogan.   So tell us who you are please.
Rob:  I grew up in Maine and now live 20 minutes west of Portland in Windham. I went to school in Boston, lived there and married and started a family. We moved to Maine raise my family.  My wife worked in the pharmaceutical industry.  We started having kids and decided to take a risk.  We moved, she now stays home with our 4 children and I've worked from my home since 2010.
I wanted to know why you decided to work with Chris.  You were running a nonprofit serving special needs kids and families.  Why would you give up a job you obviously loved and were dedicated to?
Rob: I have known Chris since the 7th grade. We were friends for two years and Chris moved away.  After 9-11 happened, I saw Chris on an email list and reached out to him.  Our friendship grew again.  In 2010 Chris asked if I'd help grow his business. I said no.  Then I thought about it. I thought maybe I could have a sense of purpose and remain mission driven.  Maybe I could be a part of this business.
Okay, now I'm listening.  Mission driven – who lives their lives with the idea of being mission driven?  Mission driven, what does that mean?
Rob: To improve the lives of individuals by providing care, knowledge, skills and resources their help them achieve their goals in life.  With emphasis on their goals.
Business, life, families – each individual person knows their situation best.  It's in whatever they want to improve.  We help people to improve their lives by providing care, knowledge, skills and resources.
We are now planting the Owner flag – the idea of owning your life, taking charge of your life.  The idea of wanting to be better at what you do, wanting to deliver. Mostly though, Owner magazine can be summed up as "Business is personal."
I get to create behind the scenes and am starting to take the stage now some myself.  I write my newsletter each week.  I'm being recognized for my own work under this banner and alongside Chris.
Really exciting stuff here.  Imagine if you created a job/company/place of work that spoke to what you were passionate about.  What could your job look like?  I've noticed you guys are really mission driven.  It's not about the money, it's about the people.  You have a real desire to serve.  How do you manage to maintain this level of passion?  Isn't the day to day hard and not always high level passion? 
Rob: NO – every second of the day is not imbued with purpose.  But, what I do know even through those challenging days or when it's not as exciting or fun, I do know I'm anchored by the mission.  That is the sustaining factor for me.
Okay, so I'm starting to understand this … It's all about the mission, right?
Rob:  I think so.  You have to feed your family too.  Part of that passion is my home and my family too.  As long as I know my family is being taken care of, you will get more of me.  My family is a platform from which I can take these risks.  I have the support of my wife and my kids.  They believe in who I am and what I do.  If that is out of whack – my family – I can't be as passionate and work as hard.
Okay, I know you are the President and are really the man behind the scenes.  But tell me what Owner is really about. 
Rob: Owner Media Group: is essentially a media and education company.  Chrisbrogan.com, and Owner – started with Chris and we are now building an audience.  Our primary objective is to create content for those who consider themselves an owner.  We have a community of people who consume the content.  That allows us to create a marketplace where we sell some of the systems we use (courses) and advertising on Owner.  Owner will become the primary site and we are developing the magazine — our tagline is the business curriculum for your future.  Webinars, trainings, articles, etc. happen as part of the business.
Content is distributed for free (and sometimes paid) and this creates the marketplace.
Solopreneurs and entrepreneurs are the majority customer base right now.  We build a community and create a sense of belonging – we nurture them and keep them engaged.  One day we hope they will purchase some of the products, but if they don't, that's ok too.
So as I look at your mission – To improve the lives of individuals by providing care, knowledge, skills and resources that help them achieve their goals – I can see how you guys have created a company that serves that mission.  You've really provided value to others and continue to find ways to do that.  Mission driven.
What do you do to encourage others to follow their dreams?  
Back to the mission! The first thing I do is try and listen and care enough.  Encouragement looks more like listening.  When people feel like they have an opportunity to talk about their dreams and I can give a feedback/summary to what I heard then it makes it seem manageable or accomplishable.
What advice would you give to the part time entrepreneurs out there? 
If someone asked, it would look a lot like what you are doing right now, Deb.  Taking steps on the platform you have right now.  You are testing things out.  You can do this in service to the current mission of your organization and there are lots of opportunities to experiment and stretch yourself.  Find ways to grow yourself in service to your company.
Mission driven – and so I think the first thing we can do is decide/create/become what our mission is.  What kind of work do you want to do?  Who do you want to serve?  Write your mission statement, and then use it to become what you see yourself being. 
Our thanks to Rob Hatch.