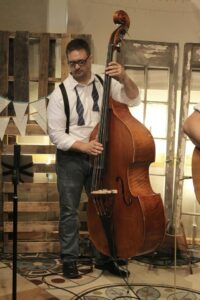 Today's guest post comes from fellow Chamber Executive, Nathan Knottingham in McMinnville, Oregon.  It was too good not to share! 
Okay, so that is not actually true.  Pinterest did, however, make it easier for me to do great surprise gifts and earn awesome husband points which definitely helped to strengthen my marriage.  Let me explain what I mean.
A couple years ago Billie (my wife) discovered Pinterest.  She spent time on there and would make recipes she discovered and we would rate them after consumption.  Then she would talk about different projects she saw and my interest was piqued.  I made an account, started following her boards, and had an epiphany: my wife was telling her friends what she thought was cool, what interested her, what she wanted to see in her domain, what she thought she would like in her life.  It is literally the gold mine of wishes and wants and it only took me paying attention to get it!
So now I start making the things that she pins to her virtual bulletin board wish lists.  More often than not I like to do them as much as she wants to see them.  I've made some great wood working projects, simple "I love you" sentiments, and even planned a weekend at the coast with a bunch of family friendly activities!
Why do I share this here, in a Chamber newsletter?  Because I started thinking about how cool it would be if all of us in business could follow our customer's Pinterest accounts.  It is a virtual bulletin board where people are willingly posting their likes, dislikes, wants, desires, and needs.  And they share them with ANYONE that wants to follow them.  How awesome would it be to have that knowledge as a business owner, manager, strategist, marketer, etc…?  Before you start following your employees on Pinterest you better check with HR, and I'm pretty sure it will be hard to get a follow on all of your customers Pinterest accounts; but the idea has some merit doesn't it?
Instead let's look at taking that type of data gathering mentality and apply it to our daily work and all the interactions we have.  How could we pay attention more closely to what our customers (employees, transactions, managers, interactions…) want and desire in their life?  Are there different questions we should ask every day?  What would we change about our services if we had that information?
Then as I'm preparing this article I got an email from Seth Godin's blog and he asked a great question: "Do you love your customers?  There are two ways people think about this:
1.We love our customers because they pay us money (Inherent here is customers = money = love).
2. We love our customers, and sometimes there's a transaction.
The second is very different indeed from the first" (Godin, February 3, 2014)
And that is the root of this entire thought. I know that you love your customers in the second way, therefore you care about their wants, likes, and needs.  Because you care so much find a way to let them know, find a way to hear what they are thinking, find a way to make it personal and effective, find your Pinterest.  If you want to brain storm let me know.  As a member we are a resource to you and we love you in the second way.