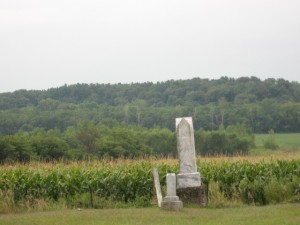 Today we honor the fallen. I'll listen to the twenty one gun salute and taps.  I'll cry over the Star Spangled Banner.  The preacher will give a good message, we'll share some coffee and cookies.  Then we walk away.
This week I've been thinking of my grandpa. Grandma and Grandpa and my two aunts immigrated here from Germany in 1928.  It was a long boat ride and grandpa was sick all the way.  They sold everything they owned to come here.  To find a better way of life.
He worked on a farm and saved enough money to buy his own farm – the place where I now live for a few more days.
Grandpa fought in World War I for the Germans. He earned medals for his bravery in battle.  He hated it, war.  He was in his 20's and had no choice – they were all called into duty.  He did his duty, came home, and made a decision that he would not fight in another war.  He left his homeland so that would not happen.
Grandpa didn't talk much about the war.  If you asked him about it, he just shook his head.  He'd say "that was a bad time. "  He once told me him and his buddies were all set to go to the other side.  They had the plan that they would just stand up and surrender.  They were hungry and scared beyond belief.  The first Americans they saw were Black – and none of them had ever seen a black person before.  They never surrendered.
My grandpa meant the whole world to me.  He laughed with me, gave me peppermints, took me fishing.  Grandpa listened to my stories and asked many questions.  I'm sure today he'd be very proud of all the stories, both real and imagined, that I tell.  Grandpa loved the simple life a farmer lives.  Up with the sun, do the chores, work the fields, home when the sun goes down.  I think his life here was nothing like it was in Germany.  There – he was a stepson, lived in the city and worked crazy hard and not paid well at all.
As I remember my grandpa today, I see him sitting in his chair, smoking his pipe filled with cherry tobacco – smiling at me.  I think of walking the shores of the creek, grandpa with a fishing pole, me with a book.  We'd find a place under a big leafy tree.  He'd fish.  I'd read.  "Fish don't like talk" he'd say.  I never remember Grandpa raising his voice to me.  He was patient, kind and loving.
When you think of your veterans today, remember all the families and veterans that have been affected by war. There are many families just like yours and mine.