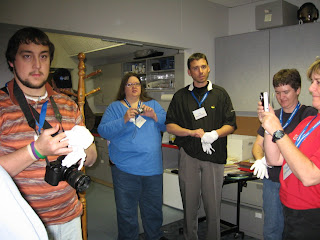 Put a group of bloggers together and what do you have?
Geeks on parade!  Cell phones that make movies.  Little itty bitty computers to type from the field.  No aversion to name badges on lanyards.  Blue jeans are business casual.   Everybody talks, at once. 
As they say in Iowa, I was in Hog Heaven.
I am on a FAMiliarization tour of Hutchinson KS.  Now, this one is a little different.
 Instead of inviting travel agents, or even travel writers – Cody Heitschmidt from Logicmaze had his clients invite a group of bloggers.
 We are staying at the Grand Prairie.  
For the next couple of days I'll be talking about what we've done and seen.  I'll upload a couple of Animoto videos for you to see.  And I'll share some stories of the people we've met.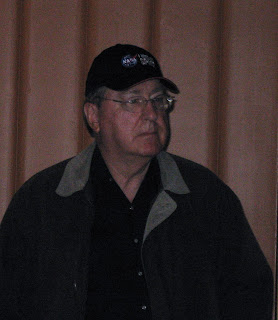 Our bus driver Glen
, is a retired service man who went to Iraq to work for a couple of years.  Mind you he is over 65 now.  He drove a truck for Kellog Brown and Richardson,  a subsidiary of  Haliburton.  He
gets to go on all the tours with us – and he's having a blast!
 I will be forever grateful to Glen for befriending my husband Kevin (who's just along for the ride). 
Glen is a good example of what I see happen in lots of towns around America.  
He doesn't go to many of th

e sites around the town where he lives

.  People get busy, have lives and the day to day just can get in the way.  

What do you know about your town?

 When was the last time you went to your local Historical Society?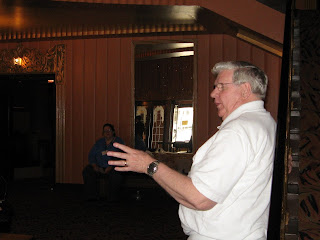 We met Marvi

n at the Fox Theatre.

 He's a retired police officer and a big fan of the Fox.  Marvin was our tour guide.  He knew the building.  He knew the history.  He took his time telling us the story of the Fox Theatre.  

It was built in 1931 for around $400,000

.  Art Deco style.  Over the years, they changed it because of 'progress '.  Put up drywall over the beautiful walls, put in a concession stand – made it 1950's America.  Eventually,

the town put together a great
 non-profit and set about bringing the original Fox Theatre back to life.
  Marvin started out slow in his narration, but you get that he's a guy that's not in a hurry.  We had 45 minutes with him, and he was just getting warmed up.  I am sorry we missed all the stories!  Next time….
Think about what you might be missing in your own home town.  And put Hutchinson KS on your travel list – see the sites and meet the people.