I'm part of a team that has created a video to invite Oprah to come to Hampton, Iowa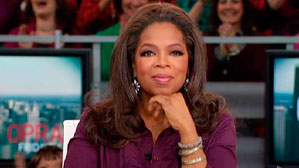 .  You can view it here: http://www.youtube.com/watch?v=zsOlN1vZnwM

The next step will be for the Hampton area community – and all our friends (that's you) –  to contact the Oprah Winfrey Show. It's important that she see how our community really does rally to a cause. Let's bring Oprah to Hampton!

You can do that on Facebook. Simply write a note on her wall at http://www.facebook.com/topic.php?topic=17590&uid=22433917219
You can find her on twitter at www.twitter.com/oprah and leave her a tweet. Or 20.
You can also send an email to http://www.oprah.com/contact_us.html Simply fill out the contact form and hit send.

For those of you who wish to send a letter, mail it to Oprah Winfrey Show, Come to My Hometown!, Team JM, P.O. Box 618300, Chicago, Illinois 60607. Not sure what to say? Stop by Center 1 and pick up a pre-printed post card. You can also pick up a pre-printed post card at the Windsor Theatre, Pralle's Wash City, The Travel Planner, Hampton Chronicle, Center One and other businesses around town and mail it off.

Feel free to forward this blog post and share as you like.

Let's show Oprah the power of a community that knows how to get things done!