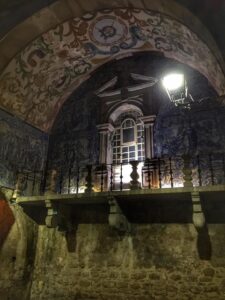 Oh-bee-dush is how it's pronounced.   It's a walled city in the countryside of Portugal.  It's name probably came from the Latin oppidum which means city or citadel.  There are about 14,000 residents in this small town and the citadel sits atop the area.  It was built originally as an early Roman settlement and has also been under Moorish rule and now is very much Portuguese.
The Porta da Vila was the main gate into Obidos and is decorated by traditional azulejos tiles which depict the Passion of Christ. It was nighttime when we entered, but it was still spectacular to see.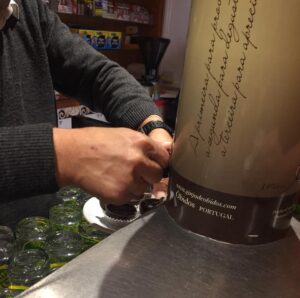 No visit to Obidos would be complete without drinking Ginja de Obidos.  It's a cherry flavored liquor served in chocolate cups.  As I type this I can taste the yummy on my tongue!
This tiny clay cup was used to sample the ginga.  After our guide, Jose Miguel, decided it was okay we had a chocolate cup of ginga ourselves.  We too agreed it was simply marvelous!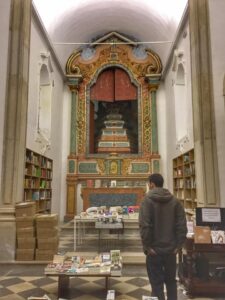 There are 5 or 6 book stores in Obidos and Jose Miguel shared with us many are 'revolutionary'.  The one we visited was in an old church.  I found a chair in the corner and happily sat while I admired the architecture, the many books (all in Portuguese) and imagined what life was like in the 1400's in this old church.
The structure outside was painted with books and I believe it is open during the good weather to serve treats.  There are old buildings converted into places for tourists to stay all around the area.  Many secret tunnels, old walkways and viewing spots all over the city.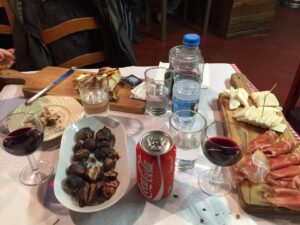 We ended our evening in Obidos enjoying dinner.  Jose Miguel asked the locals where was the best place to eat.  One told him "not there, they have a bad reputation." It was good to know – because they were set up to attract the tourists and it looked lovely!  Finally we ended up in a spot tucked into a small side street, Ja mon, Ja Mon.  There were three tables inside, an open wood burning fireplace where cooking was done and it was run by a mother, father and son and daughter.  Outside was an old roman aquaduct and a tiled statute of some sort.  They told us they didn't have big dinners, just light things and that was okay by us.  We ended up with cheese, Portuguese ham, wine and bread.
And roasted chestnuts.  The father shared the recipe with us, and then prepared it right in front of us.  I don't believe I've had any treat so scrumptious!  Finally, we were given homemade ginja to end our meal.  Oh my — oh my.