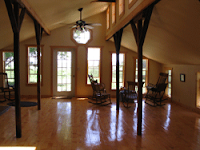 Monday came on Sunday.  
Church
at 10 a.m. – which I went to and left to take my great nephew across the street.  His great grandpa was sleeping (he's my Dad) so I ended up staying and missing church.  
Left and went to
Keri's house
and started writing a grant for the Old Stone House.  That would be the first stone house ever built in the county.  Back in 1854.  We are trying to save it — leakage and joists to be fixed.  More on that later in the week.  
Ate lunch
– corn tortillas (9 grams carb and zero sugar) with spinach, celery, tomatoes, ham, mozzarella cheese – cooked 15 minutes.  OMG – let me tell you, I fell in love with this sugar free pizza!  
Keri and I wrapped up what we were working on and headed to Iowa Falls.  We met Kathy there and then went to the
Soul of the Prairie 
 in Hubbard.  Seven women in the
Prairie Women Literary Guild
— we discussed The Secret Life of Bees until 6 pm.  The picture above is from the inside of the converted Chicken House (yup, you read it right).  Fantastic discussion in a beautiful setting.
Then I headed back to Hampton where we had an
audit meeting
to audit the church books.  We met at the Financial Secretary's house and worked for 2 hours.  Nice, huge big home – and a friendly environment.  I stayed after to talk to her husband about Four Mile Grove – it used to be a town right across from the farm I grew up on.  You'll see more on that later too!
Okay – home now at 10:33 pm   Plenty to think about too.  
The Real Monday
: Articles to write for the paper, a CD to listen to and transfer to paper with Erin tomorrow on how to systemize our business, gym in the morning, finish up the proposal for Historical Society, set up appointments for my business, attend monthly meeting at Historical Society – and then I think I'll sleep!