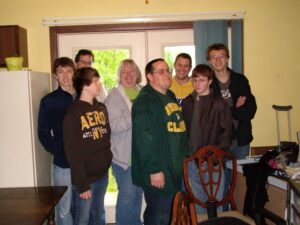 I moved this weekend.  It was the best move I've ever had.
Most people believe that moving is as stressful as public speaking.  I used to be one of those people.
That changed when I had the good fortune to know Deb Keller.  I had posted on facebook that I was moving and needed to find someone to move me.  Deb sent me a message that said essentially
"It's my daughter's graduation party the day you are moving.  We don't start until 4 and I have lots of women helping me.  What if I sent the guys over to you and they help you move? "
How could I turn that down?
I spent three evenings before the move packing my belongings in small, lightweight (easy to carry) boxes.  I labeled each box with the room I wanted it to go in and what was in the box.
Saturday I waited for the group of guys Deb was sending.  At first it was her son, his friend and her husband.  I got an email that said she was sending her brother and brother in law along too.  I looked out the window, at the rain, and a pick up and a van pulled up.  People started piling out of the vehicles.  It was like the circus where the clowns all come out of the small car!  There were about 10 people!
Two and one half hours later, I was all moved.  I have never seen such a happy group of movers! These guys were enjoying the day, laughing and making it just a fun game of moving in the rain.
I spoke with Don, Deb's brother and he mentioned they were raised Mennonite.  While not following the Mennonite religion anymore, they still chose to live by the ideals. Peace, service, simplicity, and mutual aid.
It was a very powerful lesson for me.  Those boys taught me how to find joy in what you are doing right in this moment.  They showed me what an old fashioned barn raising could be like – everyone comes together and gets it done.  They expected no pay (and yes I gave them some) and were so grateful when we sat down to eat.  Keri had made chili for the movers and we shared a meal around a big table.  It was simplicity at its best.