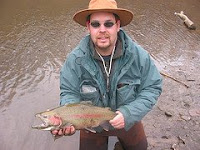 Hi Keith! Tell me a little about yourself. My name is Keith Burtis. I reside in Snyder NY, a small suburb just outside of Buffalo. I was born and raised in this area, in fact I live in the house that my father was raised in by my grandparents. I am 34 years old, a professional artistic woodturner and I have been working with wood nearly my whole life. When I was a child it was always a challenge going to sleep in our house because my father was always down in the basement playing with his wood working tools. I am lucky to have picked the Lathe as my tool of choice because it is much quieter than most power-tools. Waking any future children shouldn't be a problem.

Last February, I was engaged to my beautiful fiancée Michelle, and we plan to get married in May of 2009. I have a daughter from a previous relationship as well. Her name is Sara and she is 16 years old. Our family is very artistically gifted and the craftsmen in my family go back to before the great depression. My grandfather and his father built all of their own tools and constructed everything from Cabinets to handmade bow & arrows. My Grandfather was the NY State Archery Champion for many years with longbows that he built, laminated and sculpted by hand. You could say it is no surprise that you can find me in the same basement shop that you found my grandfather and father in back in the 50's. I still in fact have some of the old tools that they used then.
What is wood turning? What kind of things do you make? Woodturning is a process in where a solid piece of wood is attached to a Lathe and carved to shape with a variety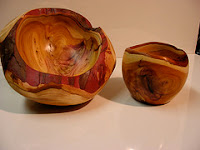 of different gauges and tools. The lathe of today is usually powered by an electric motor and the wood is attached to a chuck that spins at a high rate of speed. So unlike traditional carving or whittling the force used to cut the wood is produced by the spinning head of the lathe rather than pushing a knife through the wood. The process has been used for hundreds of years to create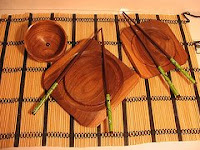 everything from functional pieces like mallets and bowls to present day contemporary art. I like to turn both functional art and display art. Some of my more popular functional art pieces are Wine bottle stoppers, Sushi Sets, Gavels, and Seam Rippers.
A new item that I am adding in the near future will be drop spindles used by knitters that make their own yarn. Some of my display pieces range from hollow vessels, to artistic bowls, all the way to conceptual art. In January I will begin working on a series of conceptual pieces I am calling "Connected" The series will be a conceptual line of pieces that will embrace how the world and all of it's living things are inexplicably linked. The series will contain 6-7 one of a kind pieces that will come with the story and theory behind the piece. I will also capture much of the making and thought process as a series of articles on my blog.
What got you into wood turning? What do you hope to do with your work? I got into woodturning as a hobby. It seemed like a natural evolution for me as I started woodworking at such a young age. However, the catalyst for my decision came early on in my teenage years when I went to a local State Fair and watched the men and women selling and demonstrating their craft. I was captivated by the piece of wood spinning on the lathe, and to watch it take shape so quickly was fascinating. It wasn't long after that I got my first lathe.
In terms of what I want do do with my work I think it can be summed up in a one word answer; 'Inspire' I want to inspire others to be creative, I want to inspire a younger generation to embrace the craft and learn all they can, I want to inspire the buyers of my work by sharing with them the stories behind it. Thats largely why I have embraced the internet. With the international scope of the internet the tools to share and inspire are all right at your fingertips.
I understand you are doing a fundraiser for the SPCA. Tell me more! Yes, my first annual fund raiser for the SPCA. I am running the fund raiser through the first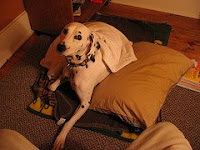 of January (Maybe longer……shhhh) and I will be giving 10% of 100% of my earnings through woodturning that I make to the SPCA. I have a best friend that hangs out with me in my shop on a daily basis. He is a Dalmatian named Saber and I got him from the SPCA. I think as an artist and as a human I like to give back. I have become sort of known as the guy who will make a piece for donation or auction for a worthy cause. However, the majority of the charities that I give to are human centric. I wanted to give back and possibly save the life or fund medication for an animal in need.
Where do you get your wood? I've looked at your pictures and the work is stunning. I get my wood from many places, but mainly I procure it from fallen trees, dug up root balls, and trees that folks ask me to take down because they are dead or a hazard. Some of the exotics that I use I get from a local supplier and they are great. You would be surprised to see how beautiful some of the woods tare hat grow locally right in your front yard. In fact, Japanese Yew Root is one of my favorite woods to turn and comes from a shrub commonly found in front yards all across the country. The purple, cream and black colorations in this wood make it a treat to turn.
Do you do commission work? Like what? I do quite a few commissions. Many of my commissions are for presents or gifts that someone is giving to a special friend, husband or wife. To say exactly what the commissions are is tough without photos, but I will describe my method. So, when someone comes to me many times they have an idea of what they like by having looked through my website or portfolio and thats a good starting point. However, try to go deeper with my commissions. If they are buying for someone else I like to ask questions about the person receiving the gift. I'll ask things like what their hobbies are, likes, dislikes, favorite color, age, and tidbits about their personality. After getting the answers I often come up with some inspiration based on the answers.
I then choose an appropriate wood or woods, generalize the shape in my mind and start working. Incredibly, I find that many of my customers love the experience and will tell me that the pieces are perfectly suited to the person on the receiving end. I like to get involved. I like to create something for someone that has a bit of meaning or a story behind it.
How are you combining writing and woodturning? This is a great question. From the angle of writing I like to try and inform, inspire, and educate others on the craft of woodturning. Yet as I said in the past question i also like to incorporate the story behind the pieces I make and share with others my source of inspiration. If you don't mind I will share one of my inspiring stories with you now.
La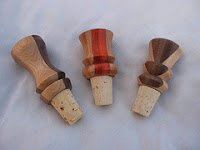 st summer, I was browsing through some websites that offer free books in audio format. I came across a trilogy of books called 7th Son, by J.C. Hutchins and decided that the story looked interesting and even better it was long. I spend a lot of hours at my lathe with my earbuds in. Hutchins, I learned after a few episodes had worked relentlessly writing this trilogy of amazing books yet was unable to procure a publisher. After much soul searching Hutchins decided to release it as a free book via his podcast and each week or so he would read, record, and release a chapter or two for his quickly growing fan base.
Well, I was late to the game and Hutchins was already in book two by the time I started listening to book one so I had hours of great entertainment for my ears while I spent time at my lathe producing my woodwork. As the book progressed I became more and more inspired to create a piece of tangible art that would represent an area in the book. I emailed and chatted with Mr. Hutchins and told him that his book had inspired me so much, and he had provided so many great hours of listening for me that I wanted to produce a piece inspired by his novel. A few weeks later I was finished and I sent the piece to him nearly across the country to show him my appreciation.
Little did I know that Mr. Hutchins had a plan of his own. He video taped his entire un-boxing of the piece that I sent him and recorded every nuance of his reaction. After filming the un-boxing he released the video into his Podcast which at the time had over 30,000 listeners. The fact is I wanted to give something back to Hutchins for all of the entertainment he provided me, but in the end it turned out to be an emotional experience helping each other out. Hutchins had since struck a publishing deal.This is why I love sharing the stories behind my work, and why I enjoy taking others experiences and emotions and tying them into my art.
Christmas is coming ………….. tell us about your gift ideas! This year I have decided to keep the majority of my holiday items functional art. I am working on a batch of collectors series rolling pins, a batch of ornaments, lots of wine bottle stoppers for the wine lovers, artistic bowls, and possibly some ring holders. Because, if the tighter economy I have decided to try and keep my pieces accessible for the person spending in the $35 – $65 range. This is not always easy as my items are all handmade one at a time, but you have to roll with the times.
Between November 10th and the 17th I will be featuring my holiday items on my website as I roll out this years ornament design and add the other items that people can choose from. The bottle stoppers and wine themed items are always my most popular. A handmade bottle stopper really spruces up the gift of a bottle of wine.
What is the best way and time to contact you if I want to purchase some of your woodturning? The best way to contact me would be either by going to my website
www.magicwoodworks.com/blog
or by emailing me at
keith@magicwoodworks.com
. Feel free to leave me a note anytime and i will get back to you really fast. If email or the web is a challenge you can feel free to call me at 716-464-8938. Most of the time you will get voicemail so please leave me your number. When I get done on the lathe, I will call you right back.