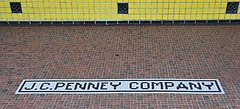 Monday I talked about JC Penney sponsoring my outfit for SOBCon 2009.  
I received this automated email:

Thank you for your email.  We appreciate your taking the time to provide us with your comments and suggestions. This email is automatically generated to let you know that 
JCPenney
 has received your email.  A JCPenney Representative will respond to you within 48 hours. You can always access helpful 
customer service information
 at
www.jcpenney.com
. For information regarding the JCPenney company you can log onto 
www.jcpenney.net
. Thank you for choosing JCPenney.
Oh boy!  I was looking forward to that contact.  48 hours would have been sometime on Wednesday.  It's Thursday night.  No email.  No phone call.  No twitter.  No blog comment.  No facebook remark.  Nothing.  
I found some media contacts at www.jcpenney.comI'll try the Corporate Communications Media people.  I'll keep you updated!    
picture courtesy of Guthrie at flickr.com