I have a home based business
. I set up accounts for an American company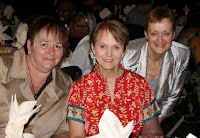 . I've been their customer for over four years, and last August I decided to make some additional income by setting up accounts for them. This has evolved into the work I do full time. It allows me to work from home, set my own schedule and be able to write more.
This article is to share with you different ways to talk to people about what you do. Some network marketers are looking for 'secrets' to involving more people in their business. There is no secret formula, just work. No one gets anything for free (there is no free lunch – first rule of economics).
The most important thing to remember, is just have a conversation. Talk to people. Listen to what they say. They will let you know what it is they need, if you listen. Don't read prepared scripts, people know when you are doing that. Just talk. Read the suggestions below, try them out with someone you know (Practice). Then go out and talk to people. You'll make mistakes, fall on your face, look stupid – at first. But really, who cares? It's like riding a bike, you fall, you get up, you fall you get up, you ride!
Let's start with some approaches for people you know.
Response to a conversation about being strapped for cash:
You know, we were the same way. I was thinking about getting a second job to help our budget, but then we started a little home based business. I know lots of people who have developed a second income in a very short time. Ours is already growing and it's easier than getting another job. No commuting, daycare, gas, lunch out and such, and I get to stay home. If you like I'll come over and share with you what I am doing, or if it is easier I can actually do a visual presentation right on your computer, which would work best for you?"
Response to a conversation about everything is too expensive:
"I know how you feel. We recently joined a great consumer discount company that is helping. They offer savings on every household product and on long-distance telephone services, prescriptions, dental and vision care and more. If you are interested in savings for your family I would be happy to share it with you. When would be a good time?"
Response to a conversation about being health conscious/green:
Hey, we found some fabulous natural, non-toxic products we can buy wholesale, direct from the factory. They're more effective, completely safe for our family, the planet and save us money every single month. Are you interested?"
Response to use when talking to a good friend:
"I need somebody who's not gonna bit my head off and I immediately thought of you". Could I pass something by you and see what you think?"

Sooner or later, you've talked to all the people you know. Now it's time to step up your game. You get to talk to people you don't know!
Response to use when meeting someone at a party, church, a wedding, but doesn't have the time now for a full presentation. Set the appointment. Wait for an opening in the conversation perhaps they ask what has been going on with you?
"I've started a new business. I'm an executive with a marketing company that markets environmentally safe products. It's fabulous, I'd love to tell you all about it some time, but right now I have to run. Why don't I call you and we'll get together? What's your number and the best time to reach you?"
Response to a stay at home mom:
"You know, it's getting tougher and tougher to make it on 1 income, but we want one of us to be able to stay home with the kids. We recently started a business that lets us work at home to earn a second income. Does this sound like something that would be a solution for you?
Response to a fantastic service person:
"You know, you have given us such excellent service. Can I ask you a questioned you getting paid what you're worth here? I have a business I think you'd love and be great at. It's the best part-time business I have seen. It will pay you what you are really worth. When would we be able to meet for coffee so I can share the details with you and see if this makes sense to you like it did for us?
Response to a business card you collected:
"I am not a head hunter, I'm a recruiter and I am looking for misplaced achievers. I'm not sure how I got your card. We are expanding our business in our area. WE are looking for people who are people centered. I'm not asking you to join anything. I'm just asking you to take a look at what I am doing. We're not after investors –we are looking for personality – the successfully discontent."
The above conversations should get you started. Enjoy yourself!
By the way, do you know anyone who wants to earn additional income around what they currently do, right from home? Have them give me a call! 641-458-1114 or http://www.debrareneebrown.com/
(free speech poster from wwii-posters.com)