M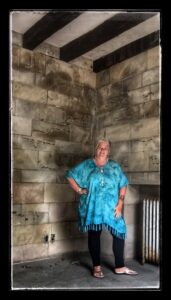 ost of us are tied down in the towns we live in.  We work, play, eat and live in our own little acre of the world.  A vacation is something you take all year to plan, and you go somewhere exotic (at least to you).  You save for it, you read about it, you change your itinerary over and over.  Then you vacate.  You leave your familiar surroundings.
I'm here to suggest you do this a little more often.  Except simply go somewhere closer to home.  This past weekend two of my friends and I went to Des Moines, an 1.5 hour drive, and visited the Salisbury House.  It was built in the 1920's by Charles Weeks, a cosmetics magnate on nine acres of woodland.  It is a 42 room manor that at one time housed Carl and Edith Weeks and their 4 sons.  It has also been home to the Iowa Education Association and finally stands as the Salisbury House Museum.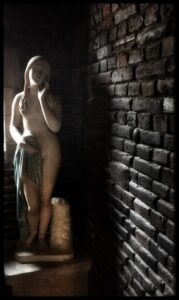 Stepping away from what you know into the land of someone's imagination is a trip worth taking.  The Weeks traveled the world and added to their art collection.  It wasn't just one type of art – it was various pieces from various times.  I walked into the hallway on the way to the public bathroom as we greeted by this lovely lady.  What was it about her that made them want to buy the piece? And why did she get placed in this little corner of the world?
As I traversed the hallways and rooms, I wondered what it was like to live here in the 20's and 30's.  Edith had 4 sons but was more than a housewife.  She had her degree in Art History,was fluent in German and was socially active.  What things did she insist her boys learn?  What was living between two world wars like?  Did she help her husband develop the cold cream/powder that we now know as foundation?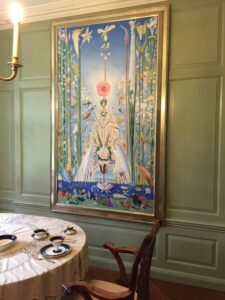 After the self guided tour of the Salisbury House we wandered around the Terrace Hill area and saw Terry Brandstad (our governor) outside with his two grandchildren, picking up sticks.  Yes, he did wave back when we waved!  We enjoyed the neighborhood, imagined what it must cost to heat some of those houses, wondered if they streets got cleaned in the winter before anyone else and simply enjoyed the drive.
It was simple half day away – but it felt like we stepped into another century.  It also cleared my mind of every day problems and some grief – and gave me an opportunity to appreciate a family who saved a slice of history just for me.