Every day I get the opportunity to work with local businesses, it's my job.  I promote, cheer lead  assist, cajole and advise.  I love what I do!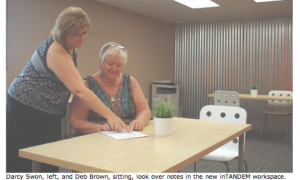 Today I'm asking a favor from my readers.  Today I get to promote a local business that we work closely with to ensure our marketing efforts are valid and work.  inTANDEM marketing is located at 501 Bank Street here in Webster City and they are applying for a grant.  I'm asking you to vote for inTANDEM marketing.  Read more about them and how to vote for them now. 
inTANDEM marketing's sole purpose is assisting small businesses in rural agricultural communities with their marketing needs to help them be successful and, in turn, the community sustainable.
inTANDEM marketing serves a diverse client base located in rural Iowa. Clients include those that are part of both agriculture service and production and those that directly impact economic development of the region. They realize the value of partnering ag and local small business to create a stronger rural community.  They're not the big guys in the big cities.  They're the good guys in the rural areas!
In order to meet the demand of the client base and to provide marketing expertise to more rural Iowa businesses, inTANDEM needs to expand their staff. They've applied for a grant through the Chase Mission Main Street program. Receiving one of the 12 grants being offered, inTANDEM can position themselves for growth and plans to hire 2 – 3 new local team members.
In order for applications to be considered, businesses need to receive 250 votes of support. To show your support of a rural business that gets 'it', inTANDEM marketing, please go to: https://www.missionmainstreetgrants.com/business/detail/8362.
To everyone else in my community — is there something you'd like me to share about your business?  I'd be happy to do so!  Let's talk.  deb at debworks dot com.