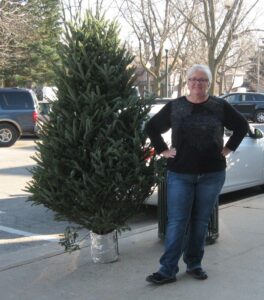 I've been called relentlessly optimistic.
That's okay by me.  Consider the alternative!  We are on this planet but a short time, why would I want to be pessimistic?  That doesn't make me happy.  However, I do believe some people are quite happy being unhappy.  I have this friend Jimmy who was in a bad marriage.  His wife harangued, nagged and bugged the hell outta him.  He finally left her.  She told a friend "some people are happy when they are unhappy.  I'm the only person who can make Jimmy happy."  She was right, he went back to her.  He had no idea how to live being happy and fell back into his old routine and was glad to be unhappy.
I'm happy living in a small town.  I know who people are, where things go and how to make a difference here.  I believe in this town and am working as hard as I can to make a difference here.  I'm seeing forward motion, people talking about change and being better.  I've lived in a big city, Chicago, and there are very cool things there.  Neat shops, stores open late, lots of art and culture and good food.  But there are many drawbacks.  No parking, high crime rate, lots of crazy people, cost of living is sky high and you don't know your neighbors.  We have neat shops here, and towns close by are doing cool things too.  It's no big deal to drive (traffic free) half an hour to a place out in the country that has 'junque'.  I can park right in front of my house, in fact in my driveway.  Arts and culture are here, you just have to look for them.  And we live in Iowa — our pork and beef can't be beat!  I can visit big cities, and do, but am always happy to come home.
I'm happy with my health.  Because I know I'm on the right track.  I'm working with a trainer and getting in shape. He's a smart kid and is showing me how to do functional work outs, things that will help me in my day to day routine.  He knows his stuff and I'm thrilled to have this opportunity.  I use Melaleuca products that help regulate blood sugar, fill me up and give me the proper nutrients.  I"m working on eating better and getting away from junk food.  My IBS is under control.  I've given up the Diet Mountain Dew.
I love my job!  Each day I get to do things that make a difference.  Supporting our chamber businesses is what we do.  Support has many definitions.  Tourism brings people to town to enjoy what we have, to shop, to dine, to play.  Events enroll the locals and people have a good time.  Seminars bring all kinds of education to our members (and future members).  This week Becky McCray will lead a brainstorming session and Jody Halsted will present on Ireland.  Both women I met via social media and they have turned into real life friends.  Social media has allowed me to connect to people I would probably never had had contact with in real life.  As a marketer, that is bliss.
My mom, brother, nieces and family are my tribe.  We love each other, we laugh a lot, we scream and yell and we are a little crazy.  I'm blessed to have them and the little ones, the great nieces and nephews, are the joy of my life.  They make me laugh, they give me hugs and they love me unconditionally.  My sons are in Chicago and I don't get to see them often enough.  I miss them, but thank God for technology – we can 'talk'.  My grandkids are there too and they having lively spirits and I am their 'pink grandma'.
So what is this happiness project?  In November some people don't shave (guys) and it's Movember to bring awareness to men's health and diseases like testicular cancer.  Some people share each day on Facebook what they are grateful for.  I've decided I'll say each day on Facebook (and maybe twitter) what has made me happy that day.  At the end of the month I'll write a blog posting sharing those thoughts.  The goal?  To get people to see that they have opportunity every day to be happy.  It's a choice.