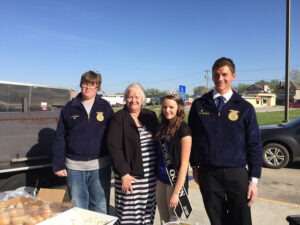 Last night I got to hang out with the Pork Queen and the kids from the FFA.
It's just one of the many reasons I love living in a small town.  For the cost of $5 here's what I received:
A pork burger with bacon, chips and a drink
great conversation with local FFA boys and girls
knowing the proceeds of that meal go to support those students
my picture with them and the pork queen!
supporting a local business (Hy-Vee)
networking with our local Pork Producers
FFA – Future Farmers of America (for my readers who may not have known what that stood for.
Did you know Iowa is the #1 state in the nation for pork production?  And the #1 state for pork exports?  94% of Iowa's farms are family owned farms.  Almost 1/3 of the nation's hogs are raised in Iowa.  There's plenty of information about pigs and pork production on the Pork Producers site at http://www.iowapork.org/