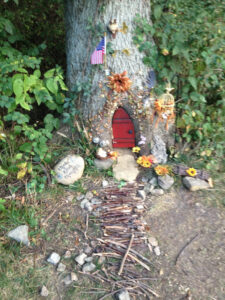 In Iowa the ash trees have been hit by the emerald ash borer, and many of them are being cut down.  Some of these trees have been around a long time and will be sorely missed.
At our retail meeting yesterday, Steve from Home Appliance suggested we figure out how to make the stumps into Gnome Homes.  I was immediately captivated!  It's a pretty simple process (once the tree is down) and creates a lovely, little display in your yard.  Or park.  Or community.
What if some of the local organizations partnered up to make Gnome Homes around town?  Great project for boy scouts, Rotary, Kiwanis, Lion's club and churches.  Someone could build a little roof to go over the stump!  Go to Pinterest and do a search for Gnome Home – be prepared to want to go out and build one!
Check out How to Make a Gnome Home by Jennifer Pilcher on Snapguide.