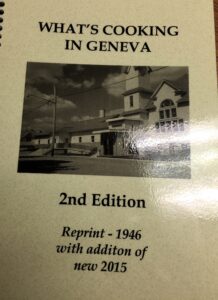 These recipes are tried, tested and true.  They are from women who are known across the state for the best church dinners ever known to man, at least in the state of Iowa. Now you may think I'm exaggerating, but I'm here to tell you that I am not. The Geneva Church Ladies host a meal about quarterly, and fill the community hall with people from the county and the surrounding counties.
This particular cookbook, the 2nd edition, is a reprint of the 1946 edition and includes recipes from women who's names began with "Mrs." and had their husband's first name and last name next.  Funny custom that, glad to see it gone, because I have trouble remembering their real first names.  Of course if they were single, they gave their real first names.  However, they were all good cooks.  The food included things like lard, so you might have to look that up in order to figure out how to use it.  It will be worth it.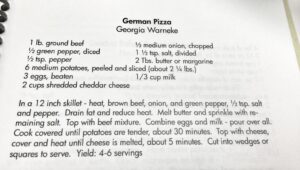 Then there are the new additions.  Now those include the women's real names – not the husband's names.  Unless of course it's the husband's or son's recipes.  Here's Georgia's recipe – and it's appropriate because there's a lot of Germans in our neck of the woods.  You could probably eat this for breakfast too!
My mom, Shirley During, shared her famous orange cookies, no bake cookies and tuna noodle casserole recipes in this cookbook.  I know you'll want to buy this book just for those alone!
If you'd like to order one of these fabulous cookbooks and have me ship you one via USPS, just go to this link: paypal.me/debworks and send $20.  That will cover the cost of the cookbook and USPS Priority Mail shipping.  Be sure to leave your shipping address! I thank you, my church thanks you and your stomach will thank you.
And oh! Stop by this Sunday, November 15, at 12 noon for a turkey dinner – $9 for adults – made by the Geneva Church Ladies at the Geneva United Methodist Church in Geneva, Iowa.  There's 141 people in town, the church is on the blacktop in the middle of town – it won't take you long to find it.  Look for all the cars.  You can buy your own cookbook at the event, and eat the best dinner you've ever had too.