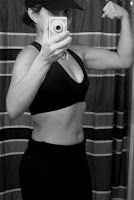 ARE YOU GETTING YOUR WORKOUT ON??
Franklin Wellness Center has a new director – Nick Hansen!
Tell us about yourself? I'm from Osmond NE (50 miles west of Sioux City), born and raised in a town of 800 people! I'm 28 (he looks 14) and have a lovely wife Carrie. Just married one and a half years ago!
Where did you go to school? Wayne state college, Wayne, NE and studied exercise science for my bachelors and got my master in Education w/emphasis in Exercise Science then it was time to join the real world and look for job opportunities.
This is my first real job in my field!
What does one do with exercise science degree? Personal train, directors (aquatics, wellness, special population director – sr. wellness for example) and corporate wellness.
We have started a corporate wellness plan aimed for employees in Franklin county. The company pays a fee and we will give them a special discount to their employees and they will receive a package of information, we will go the site and give healthy tips and training. We want to increase the productivity of the employee (healthier lifestyle decreases health insurance costs!).
Personal training? Right now, we have none. We are working on setting up the insurance regulations and you can look for this in the future! I myself will be doing training!
So why did you choose Hampton? I saw an ad on the internet, read the description, sounded like a pretty cool job. I applied, a week later I was asked to interview with the board members. After meeting with them, I felt like this was a pretty good job oppty and I could help the community at the same time.
What does that mean- help the community? My passion is exercise and I think I can bring more programs and get more people involved in wellness and health – of all ages.
What does FWC have to offer?
Programs like total body conditioning, Over 50 and Fit, Senior Water Aerobics and Yoga. You can access the gym where you can play indoor soccer, volleyball or basketball. We have a fun zone k-2 where the ids learn different activities (track and field, basketball, and the like) – and a program for 3rd to 5th graders – it teaches them the basics to see if they like it. We have volleyball and are looking to set up teams for perhaps a pick up league. We have a walking/running track that is 105 meters (15 laps would be a mile). We have the free weights upstairs and weight machines and all the cardio equipment (elliptical,l, treadmill, bikes). Downstairs we have the pool (with classes) 4 lap area and a therapy pool/spa area.
Why do I want to join? To benefit and live a healthier lifestyle! We have programs to help motivate you. You'll meet new people in the community. We will help you reach your goals.
What's coming down the pike? Trying to install more youth programs, sidewalk accessibility, and we are working on starting live healthy Iowa team.
Anything else? If you are looking for a new resolution or a way to live a healthier lifestyle – stop in and we will give you a tour – we aim to please, and we want you to obtain your goals!
Who teaches your classes? Classes are independent of the wellness center and we pay our instructors – that is why members get a discount on the class. You can take a class and not be a member! Kristi Wragge, Rhonda Wenzel, Abby Stuckenburg, Liz Miller and Diane Davis are some of our instructors.
We started a winter challenge for a 2009 triathlon – there are around 20 people participating. You log run/walk miles, swim miles and bike miles.
How to contact FWC: 641-456-2827 at 1514 central ave East, Hampton, Iowa
I joined FWC and played some basketball, walked the track 1/3 of a mile and lifted some weights.  I am SO not in shape.  The great thing is – I have a place now close to my home that I can go work out at and get into better physical shape.  My brother's family has joined as well – so I have someone to work out with!  
photo provided by ggvic at Flickr.com