6 bloggers came to Franklin County Iowa last night.  We took them to the REA Plant and Museum (first farmer owned electricity plant in the United States), the Old Stone House (built in 1854) and Maynes Grove Lodge for some wine and food and mingling.
Our hashtag for you to follow along on twitter is #HarvestTour2012.  Here's a few things that came through last night after they returned to the Country Heritage Bed and Breakfast.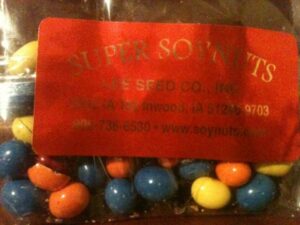 Adam Sommer: First time I've ever seen chocolate covered soy nuts!.   There was a gift bag in each room and the Franklin County Farm Bureau gave each blogger a couple of packages of chocolate covered soy nuts – just a nice treat to warm them up for the bean fields tomorrow!  There was also a pig poop candle from Cornerstone Cottage, two small bottles of wine from TownsEnd Winery, a corn shaped flash drive from Latham Hi Tech Seeds and a few sheets of printed material.  A packet of Field Notes notebooks and a painted pumpkin rounded out the gift.
WorkMomTravels: Highlight so far of #HarvestTour2012? The goats that live at our B&B. More fun to come!  Country Heritage is a bed and breakfast on Highway 3 west of Hampton – out in the country.  There's the house, garage, barn and outbuilding with a couple of goats in the fenced off area.  I'm told they do a great job of weed eating and talking to kids.

RuralLifeRadio: Whoa! Check the sign! We're a Coming Event! Yes!!!  That's right, the bloggers are a big deal and we are thrilled to have them.  In this picture you can also see the Franklin County Courthouse.  It sits in the middle of the square and is a beauty to behold.  Today we will travel into Hampton and spend some time downtown in the historic district.  We are a Main Street community and the entire downtown area has been designated by the state on the Historic Register.  There are several eating places, the Specialty Shops, Band Shell Park, 100 year old Windsor Theatre and many businesses.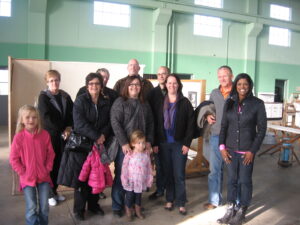 hddbstephen:  weather in NH was miserable too, but its been great for the #harvesttour2012 looking forward to tomorrow!  There's a chill in the air, but the sun is shining and it feels like fall.
Our first stop was the REA Plant and Museum.  Larry Meyer from the Historical Society and Fran Buckel from the Rural Electric Coop came and shared the story of the place and some interesting facts and figures about electricity.  The kids got to see how things were done before electricity and during the early days of electricity.  This building was built in the deep cold of winter 75 years ago and still stands proudly today.  It's a story we will be sharing a lot over the coming year.
This is a picture of the entire group of bloggers and Jennifer Healy from Franklin County Farm Bureau and me. We are at Maynes Grove located 4 miles south of Hampton in the middle of a huge grove of trees.  It's the diamond in the county conservation park system in Franklin County.