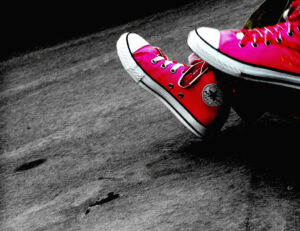 In October of 2008 I started a journey down the social media path that has led me to many wonderful adventures.  I've learned a lot, I've shared a lot and I've created magic for the places I work because of what I've learned.  Now I'm no expert – no one really is in this space.  I am a connector and particularly skilled at putting the right people with the right people and right information.  Social media had nothing to do with that skill.  My great education at school and in life has made me a great connector.
Here's what I know about social media.
There's a lot of 'noise' out there in the interwebz.  You can follow a 100 blogs, create tens of alerts, pin thousands of pins, read all the best advice and still not know everything.  However, you will retain some of it. You'll keep the stuff that makes sense to you, the stuff that works for what you are doing.  The important thing is to keep reading, keep talking and share what you learn.
Follow your gut.  When you find those people that make the most sense and are willing and happy to connect with you, become friends.  Build relationships.  It doesn't matter if you never actually meet them in real life, although that does help.  These are your new friends who will 'get' you, who will urge you to greatness, who will support you, who will tell you when you are full of shit.  They are few and far between – but they are out there.  Becky McCray of www.beckymccray.com is one of my true friends.  Jeff Pulver of #140conf greatness is another.  Cody Heitschmidt of www.codytalks.com is like a little brother.  Jon Swanson of www.300words.com is my preacher friend (literally).  Jody Halsted of www.jodyhalsted.com has reinvigorated the travel bug in me, now there's a friend.  Shawna Coronado of www.shawnacoronado.com has taught me how to move forward in baby steps, and to never give up. These are just a few of the people I've connected with and built a relationship with – and they have changed my life.
You can't do it all.  There is no possible way you can learn every single social media tool.  They are tools.  A good carpenter will not use every single tool they own every single day.  They have 3 or 4 tools that are specific to the industry they work, and they use them a lot.  The other tools they may only use occasionally. Or they hire someone to help them that has experience with that tool.  Social media is no different.  My go to  tools are facebook, twitter and blogging.  I've got a little experience in flickr, foursquare, evernote and instagram.  The rest, I can hire out.
There's a lot of cool stuff out there to take part in.  My next adventure, and birthday present to myself, is the Misfit Conference.  I'm going to Fargo, ND for 3 days to take part in a conference where I'll walk away with the tools to make a dent in the universe.
In 11 days I'll be 58 years old.  My birthday is June 1.  I'll be in Fargo, so don't bake me a cake.  But do celebrate with me.  Find your own secret path on the internet and follow it.  See where it leads you, have parties along the way.  Make a difference.