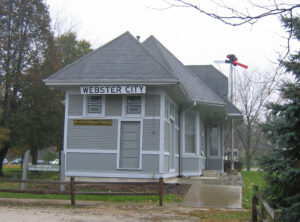 Where are you traveling?  Have you explored your local county first?  It's a question I ask a lot – there are so many exciting things to see and do here in Hamilton County and I'm just getting started.  The problem for a lot of Chamber and Tourism organizations is where do we begin when we talk about what our towns have to offer.
This week I attended the quarterly meeting of Central Iowa Tourism and had the pleasure of hearing from the state of Iowa Tourism staff.  They shared with us many statistics and ideas for promotion and what they are doing to help us here in Hamilton County.  They did a lot of research and have decided to target social moms.  These women are 25 to 54 years old, usually responsible for planning vacations, average household income is $84,000, college graduates, top priority is spending time with family, are very social and discuss vacations on Facebook and twitter.  According to the focus group studies conducted by the state, these things are what vacationers are looking for (in this order of importance):
Something different
Relaxation
Nature and Beauty
Family and Kid Friendly
Choices of things to do
Historical
And finally, good customer service.
Those surveyed had these impressions of Iowa:
Natural beauty, outdoor fun, relaxing, slower pace
Friendly people, welcoming, family oriented
Specific attractions and point of interest
Surprising finds, expect the unexpected
Road trip
Accessible/close to home
History/education
Food/restaurants/home cooking
Inexpensive/affordable
A wonderful tagline that would fill all of those requirements is….Escape to the unexpected. 
In today's world, we are all busy and connected via smartphone, tablet or laptop.  We don't get out enough, and we are very active in our children's activities (think of all the time spent in the minivan!).  We trust our friends online to give great recommendations of things to do with our family for vacation.  These social moms are no different.  
I live and work in Boone River Country – Webster City, Iowa.  I believe we can give visitors some great unexpected fun.  Playing along the river, racetracks, shopping and dining, Dragoon Trail adventures, history, theatre,  golf and so much more are available here.  We're working on some itineraries that will showcase what we have to offer – and we're going to make you want to escape to the unexpected. 
Stay tuned …..