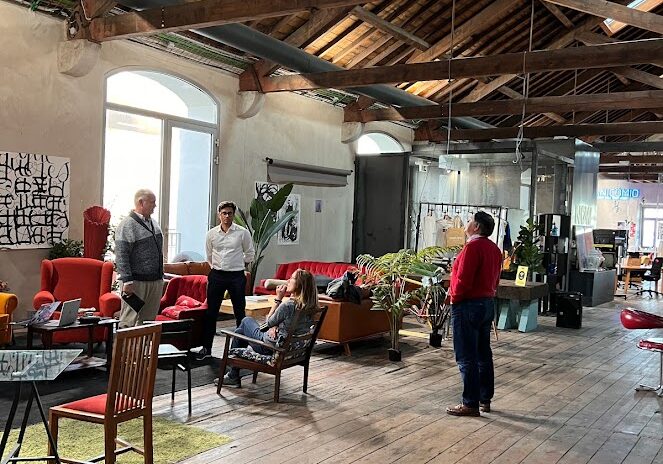 In today's global economy, entrepreneurs are always looking for new opportunities to innovate and create value. Small towns and villages are often overlooked and also can be a rich source of local knowledge and expertise. However, engaging with these communities can be challenging for people outside them, especially in areas with low population density and depopulation.
I was invited to speak about rural entrepreneurship at the coworking space NOW Beato in Lisbon, Portugal by my friend and business associate Frederico Lucas. My first night in Lisbon I spoke at this event and it was broadcast live on Facebook. Focused on rural entrepreneurship, we had a lively conversation about the possibilities for their rural areas. And meeting the challenges their depopulated communities have.
41 Small Villages Network Project in Rural Portugal
Ana Linares, from Novos Povoadores ("New Settlers"), and her team works with a group of small villages, 41 of them. There are very few people living there and few children, so the schools are closed. One town has 17 residents. Low density population is a problem. In the US we would call them ghost towns, in Portugal they call them depopulated.
Ana tells us about this project. These 41 villages have created a network to develop tourism, but also to develop the community, and the social aspect of their economics. Because they are very small, if they were alone in trying to implement projects, it would be even more difficult. They started to organize and work together and use their synergies.
If one village has a festival, and another village has a walking trail, they can work together to offer a tourist experience that is more complete. Some towns have places to eat or sleep that can be added to the experience. Once the team connects with some of the few older people still living there, they find the community has great pride in their villages and is very open to innovation and doing new projects.
This initiative comes from the people in the community, not the municipality. As is the case in many small towns, they must start with what they have. The local government will not be the ones to begin the initiative. And the town is depopulated and doesn't have the resources or people to get started. At least that is their belief. Often, there is no single group that wants to be responsible to start the project. As in the United States, I've heard many people say, "The city ought to fix that." And the people forget they ARE the city.
Christmas and community made this idea work
A successful example of this kind of project is the Christmas Village that asked for support and started with their own facilities and resources. Eventually the municipality joined in, but it was not quick.
This village is Cabeça, the first eco-sustainable Christmas village in Portugal. Supported by eco-design experts, local communities have engaged in the task of developing Christmas décor by using natural elements, agricultural and forest surplus, as well as wool from the Serra da Estrela Mountain area.
All the streets are ornamented with natural materials, and the town comes together a month or two before and works on all the ornaments and decorations. No plastic, only natural material. There is a large warehouse where all the ladies go to make the ornaments.
Capturing the stories
One inspiring example Ana talked about is the Museum of the Future, a new project in Portugal that captures the stories of people in small villages in video format. These stories have cultural, social, personal, and human dimensions, and can be used to inspire new ideas and products.
Places to work, meet, and celebrate for free
Another project Ana and her team worked on was reinventing and redesigning some small spaces for a handful of artists to work for free. They used circular economy design – where everything was designed and made with the local artisans in mind. Each artisan also has a retail space.
It's also a space that is open to everyone in the village where you can have meetings and parties. It is a place to bring new people from out of the village. They can have the experience of what it is to live in a place that is open to artisans and community. There are many advantages to living in a place like this!  
What does it take to be successful?
Engaging with small communities requires patience, empathy, and a willingness to listen and learn. It also requires a recognition that successful projects are not just about achieving technical goals, but also about building relationships and empowering communities.
One solution they use in Portugal is to adopt a co-creative and collaborative approach. By bringing the community along in every project, entrepreneurs can ensure that their initiatives are relevant, sustainable, and impactful. This approach also recognizes the value of people's local stories and cultural heritage, which can be turned into resources for younger people to create new products or services, or to reinvent old ways of doing things.
Is this a utopian vision?
No. I don't think so. Ana and the team at Novos Povoadores shared this remark on their website.
The globalized society is increasingly based on an economy without geography, a fact that allows us to look at the territory in a more inclusive way. In this context, it is possible to reduce the gap of regional disparities with advantages for new residents and for low-density territories. On the one hand, an undeniable increase in the quality of life, and on the other hand, the breaking of a cycle of territorial bleeding.
Ana Linares shared these stories with us (and the world) in her part of the panel discussion.