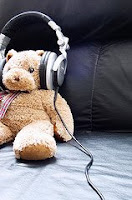 This is the second part of my interview with Dominick Evans.  

I see you are into music. You review, you blog, you write about it. Tell me how music has helped shape your life, please.

I've been involved in music practically since birth. It's been a part of my life for as long as I have
 been able to talk. My maternal Grandmother, Melba, used to sing on the radio in Toledo, Ohio. She performed weekly from the age of 7 until she was 18. She had a beautiful voice and is the one who taught all of her grandchildren how to sing. I remember the first song I ever learned to sing, "Zippity Doo Dah" from the Disney movie, Songs of the South.
I always performed for my family and their friends. I used to go with my grandparents to all their meetings and groups, where I'd perform. I'd sing on their little stage and charm the entire audience. My grandfather was a retired postal worker (former mailman), so he'd attend NARFE meetings and meetings for Retired Letter Carriers. I always got to come along, because I was the youngest in my family who lived near them and my parents both went to school (and eventually worked).
When I was ten, I started taking voice lessons with a very old, well respected musician named Lola Smith. Lola had actually been on the radio, playing piano and accordion when my Grandmother used to sing to her accompaniment. She was nearly 90 and I was not an easy student. I didn't want to be forced to sing. I thought I had much more talent acting, and I sloughed off vocally. I could only train with Lola for two or three years because her home, where she gave lessons, had steps. I was getting weaker and eventually could no longer crawl up them.
So what happened next?
I ended up getting involved with the Sylvania, Ohio Franciscan Life Center. I attended summer camp where I studied acting, singing and movement. I also took acting lessons through the Center during the school year. I started auditioning and performing in local and school musicals. I also found a new voice teacher, Lance Ashmore, who worked with people from the Toledo Opera.
This is when I really started to take singing seriously. Lance taught me to sing in a variety of languages…Italian, Latin, German, French and Spanish. He also pushed me to audition for the Toledo Opera Youth Camp, which he helped to run. I attended Opera Camp, after being accepted, though I could only attend half of the camp, because it coincided with MDA (Muscular Dystrophy Association) camp, something I NEVER missed. It was the one time of the year I had the chance to hang out with all my other friends in wheelchairs.
When I was in 10th grade, I was homeschooled through my school. I missed going to actual school from September to March due to my impending surgery. I had Spinal Fusion surgery in December of the school year, which was in 1996. This was the last time I could walk and stand up. I ended up turning 16 years old on December 26, ten days after my surgery. That's also the day I got out of the hospital. I was taken home by ambulance because I was very sick after my surgery. One of the things that happened was the tubes down my throat (a necessity during surgery) nicked my vocal cords. I couldn't speak above a whisper for months and singing was nearly impossible.
That summer, I worked my rear off to get my voice back and I went into my junior year, with a somewhat lower voice. I'd always been a soprano, but now I sang alto. This, obviously, didn't bother me, too much. It just meant I had to work harder singing-wise. In my senior year of high school, I shared the lead in our high school musical with two other girls. I also started taking lessons with someone at Bowling Green State University. When I moved to Dayton, Ohio in 2000, I ended up taking voice lesson with Lee Merrill, a former singer with the Houston Opera. It was under Lee that I truly found my voice. She gave me the strength to admit…Yes I can sing.
Since transitioning, I've had to put singing on hold. My voice lowering is going to affect my voice, so I've had to stop training until after it lowers. I miss singing a lot. I love music. I also am self-taught on the piano, and I used to play the clarinet, while in Jr. High and High School. Until after my surgery I sat First Chair. Today, I just don't have the muscle strength to play the clarinet anymore, but I can appreciate music…from Classic to Alternative and feel that music can and will always be a significant part of my life.
Dom – would you give me a bit of a bio?
I was born in St. Vincent's hospital, in Toledo, Ohio on December 26, 1980. I was the only one born female. My dad had two older sons from a first marriage and I had an older brother that has the same mom that I do. My dad died in 2001 and I don't talk to my mom or my brothers. She was abusive, though she denies that fact, at every turn (except when we're alone when she points out to me I probably deserved it). My family isn't very supportive about my transition. They won't call me Dominick and refer to me as she and her. The only person I really talk to is my grandfather.
What is your biggest medical problem?
Medically, my biggest issue was breathing trouble. As I mentioned, I have asthma due to SMA. Before I was 10, I had pneumonia twice. I missed a lot of school due to colds and other assorted respiratory related illnesses. My life was interesting. My mother always had issues, but she never really started being full out abusive to me until I came out at age 16. From the journal she wrote for me, after my birth, and from her actions, I feel that she only had children to be loved. She felt her parents never loved her and she wanted my brother, Matt, and I to be the ones to give her the affection she craved.
So it sounds like your mom was the uber bitch!
I was never the baby or child she wanted. I didn't like being cuddled or coddled. I only settled when my dad or grandfathers held me. I was very independent from an early age. I was very much unlike my brother. My mom wrote she had aspirations that we'd be close and that I'd be more like my brother. I never was this person and that frustrated her greatly. My father wasn't very affectionate. He had his own issues and perpetual drama between him and I resulted in quite a bit of bad blood. In fact, we never really ever admitted we cared for one another until he was dying. I was lucky enough to resolve my relationship with him before his death. He was also more accepting about my dating girls and though I never had the chance to tell him I was transgendered, I like to think he would have been supportive.
Where have you gone to school?
I attended Lake High School in Millbury, Ohio. It was a miserable experience, any way you look at it. I got good grades, was in honors and took Post Secondary classes at BGSU before I'd even graduated. I ended up going to Bowling Green State University for one year and then transferred down to Wright State University in Dayton, Ohio due to wheelchair accessibility issues on the BGSU campus. I briefly fought the school, with interviews in all the local papers and on local television about the problems, but eventually moved to a more accessible campus.
Moving to Dayton saved my life. I was able to escape the abusive household I was forced to live in, at home. I had hired Personal Assistants who helped with my daily living at WSU, but I still had a lot of issues, partly because I still didn't understand I was transgendered and partly due to the pressure to keep control of me, by my overbearing mother.
What kind of GLBT community support do you have? What would you ask of them?

I only have GLBT support online. There isn't much in my county (Genesee) and there are very limited resources for transgendered individuals in this county. Most transgendered folks that live here have to go to Detroit or Ann Arbor. I don't have a van (wheelchair accessible vans cost $40,000-$50,000 or more), so I can't travel to either of these areas. They are outside my county and accessible transport doesn't leave Genesee nor is it particularly reliable.

I only have a small group of transgendered and/or gay and lesbian friends. Many of these people I talk to via Myspace. I know a lot of these people personally, from WSU or BGSU. When at college, I had a more active role in the GLBT community, but right now, I don't have much support at all. I wouldn't ask a lot of my friends, merely because many of them are facing their own woes. Being transgendered is expensive. Hormones and surgery are not cheap, so my friends are mainly just there to talk to and for moral support and guidance.
This is a major reason why we plan to move to Washtenaw County if we can get out of this house. I am looking to return to college there and the county is MUCH more supportive not only to the GLBT community but it also offers many services to people in wheelchairs that Genesee does not. The problem we are having is that we've accumulated bills in the amount of $30,000. Ashtyn and I work online while her mother, Sylvia, helps take care of our 14 year old son, whom we homeschool.
I see you have a girlfriend and a son. How's that work?
I started dating Ashtyn in 2002, when I was going to school at WSU. We'd been friends since 1999, but had both been in different places relationship wise. Our getting together was pure chance, as we'd lost touch, with her in Michigan and I, away at school. At that time, I had a lot of things on my plate. We reconnected online, started talking by phone, and she traveled down to visit me over Thanksgiving of 2002. She, essentially, never left. By my birthday of that year, she had moved in with her then, eight year old son.
Our son, CT (short for Cool Teen), is now 14. He has an Autistic Spectrum Disorder and Bi Polar Disorder. This means that life in our house can be quite hectic. While I am technically CT's stepfather, we all consider me his real dad. He has no contact with his biological father and that's definitely a good thing (long story). We don't always get along, because I'm in charge of homework. Your child is never going to be fond of the person doling out the homework, no matter who they are!
This does cause a lot of tension in the household, but I feel that is amplified by the lack of space we have in this tiny house. We're all packed together tightly in this house, so everyone is pretty much in everyone else's business. Add in the fact that Ashtyn's mother, Sylvia, lives with us and we have one crazy household. She is a big help with CT, most of the time, but she and I also have our moments. Our biggest issue is parenting styles. She was always the cool mom. She's relaxed and easy going. I'm much more strict and disciplined. Ash's style is somewhere in between the two of us parenting-wise, believing there is a time and place for strictness, discipline and relaxation. It can be hard not to have rules with an autistic child, because they need boundaries to be set. Otherwise, playing all the adults against one another is a major issue that can create way more tension than any of us needs.

Come back next weekend where we will see the house Dom lives in now and find out how Dom went $30,000 in debt.  Meanwhile visit www.ahouse4dom.com 
teddy bear pic from shankr at www.flickr.com 
wheelchair pic from osgo at www.flickr.com