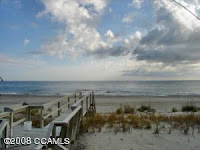 Keith Burtis wrote a great blog about his dream house (www.keithburtis.com) – and I thought it only fitting I write one too!  If you look at www.ahouse4dom.com, Dominick has his house described as well. This is not a meme, but if you do decide to write about your dream house, please come back and comment so I can read it too! 
You know there is magic in putting on paper exactly what you want.  If you can see it – you can have it.  Here's my house – come visit anytime!  Better call first, I travel a lot.  
I'd have a house on the ocean with a long deck and no one on the beach most of the time but me. I can see the ocean from across the entire back of the house.
The living area is an open space and the back of the house is all floor to ceiling windows – with the middle area french doors that open to the deck overlooking the ocean. Looking out, the living room area is on the left, the kitchen/dining area on the right.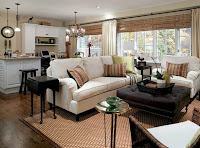 My style is very shabby chic – comfortable and inviting.  Overstuffed furniture and a huge ottoman.  There is a desk area behind the furniture that will close all up when not in use.  
On the deck itself is a long table w/six comfortable chairs around it.   I like teak.  I want to be able to sit outside and work on my laptop and blackberry. Of course drink some coffee.  The deck is large – we do yoga out there.  It also has an overhang to protect us from too much sun.   I've also got a space to do some herb gardening for my home cooking.  And a shower to rinse off the sand before entering the house.  
The kitchen has granite countertops and an island in the center.  Of course we will have a small dining area – just in case its raining outside! There's a small half bath for visitors to use.  
Requirements:
very low carbon footprint (solar probably)
pet friendly – will have a cat and maybe a dog
plenty of closets and storage space
internet access high speed
covered parking for two cars
easy roads out to main highways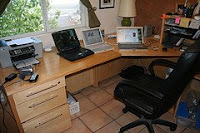 I write. A lot.  I read. A lot.  There will be bookcases in every room.   A tabletop of some sort in every room.  I kickass music system.  Flat screen tv in the living room and the office.  
My office – a separate room that overlooks the driveway.  With at least one laptop in it, good lighting, two big filing cabinets – and order everywhere.  
The most important thing I need in my home is peace.  I travel a lot so I have to be able to pack my bag and go.  That means I have a wonderful neighbor that will watch the animals and water the plants.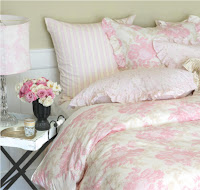 I have two bedrooms – the master suite is simple.  A king size bed, nightstand – attached walk in closet and bathroom (jacuzzi and
 rainshower shower).   I just want to have quiet in my bedroom.  Simple, light, flowers and quiet. 
The second bedroom is set up for visitors.  Simple also – bed, dresser, closet.  Also a attached bathroom.
In writing this, I see just how much I need to be somewhere on the water – alone.  It's when I feel my best, and write my best.  Amazing what a little dreaming can do! 
ocean view is from www.homes.com Emerald City 
shabby chic living room from inspirationforeverydayliving.blogspot.com 
office from cogdogblog at flickr.com