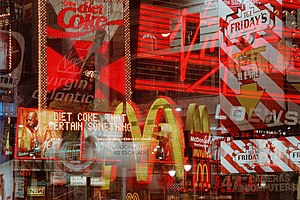 Image via Wikipedia
Of course you do. Even the smart folks at the Small Business Administration (SBA) think so. They call your retail identification sign a silent salesman, advertising your business day and night.
But what if you have a home-based business out in the country, or feel that people are driving to the big box store down the street because, after all, their sign is more visible?
The SBA has the statistics that show how adding one more on-premise sign increases sales:
On average, one additional on-premise sign resulted in an increase in annual sales revenues of 4.75%. This translates to a $23,750 increase in average sales revenues for a typical store in the study group with annual sales of $500,000.
What if you added a second, or even third, sign to entice new and existing customers? Does that seem over-the-top extravagant?
The statistics above show that it's not at all extravagant, but you may be restrained by your town's sign ordinances, or your landlord's lease restrictions, and are only allowed a single sign.
The good news is that signs come in all sizes and shapes, and for budgets both big and small. Some signs are even portable.
Here are three (plus one extra) simple marketing opportunities you may have never considered where signs will bring your business added visibility like that described by the SBA:
1. Sponsorship banners for events. Ask your church, civic or school organization to purchase or trade banners where all of the sponsors' names are listed (and you are a sponsor at one of these events, right?). Hang the banner where it will be most visible to people attending.
2. Travel in style with magnetic signs on your car doors. People are curious and love to see what you're advertising. . .on your car! Buy a pair and as you do your daily driving routine, you'll be branding and marketing your business. When you're not CEO of your business, the magnetics go into storage.
3. Window graphics. For a retail location, this can be part of your merchandising efforts. Perhaps quarterly, or every other month, you can change out the text and images on your windows so that they match your current season, special events, or sales effort. Think about using photographic images and attractive fonts that set you apart from your competition.
As you gain customers, ask them how they heard about you, and don't be surprised if they say, "It was your sign." Signs have advertising and branding power, and they don't have to be terribly expensive. Go ahead and check out which one of these three suggestions works best for your business.
P.S. Before I forget, the fourth sign idea for you to consider is vinyl floor graphics. Graphics that go on a window can also be installed on your store floor, or the sidewalk leading up to your entrance. Perhaps a half dozen or so attractive shapes with a timely message may draw the attention your business deserves. Good luck!
This guest post was written by Paula A. Diaco, the owner of SignARama of Vermont. She and her business partner husband, Bob, opened their store in 1994 and have helped many small business owners brand, publicize, and market their businesses.