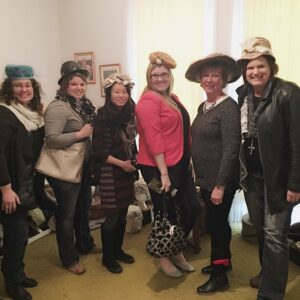 This article originally appeared in the Building Possibility newsletter from 12-17-14.  We've been asked to share it with our blog readers!
We hosted a Bloggers Tour on December 13, 2014 here in Webster City.  We invited the North Iowa Bloggers to town.  https://www.facebook.com/NorthIowaBloggers
Six of the bloggers came and spent the day in Webster City.  We started at 9 am and finished at 5 pm.  Lunch was provided by the Grid Iron Grill and each shop had either a short demo, told the story of their business, or offered some gifts.  The cost to the Chamber was simply Deb's time in organizing and leading the tour.
We had arranged for them to visit these shops:
SOS Vintage (and TiDe Creations and Relax the Bath housed in that location)
R Company
Shanti Wellness and Day Spa
Gilberts Jewelry
Osweiler's Fashions
Classic Carpet and Interiors
Produce Station Pottery
Stony Creek Landscapes
Heart 'n Home
They had lunch at Grid Iron Grill and were scheduled for supper at Seneca Street Saloon.
They toured the Jane Young House, Kendall Young Library and the Lighted Drive at Briggs Woods Campgrounds.
They spent time at inTANDEM Workspace and did some writing, and had a recap conversation.
They met the mayor and he spoke and answered questions.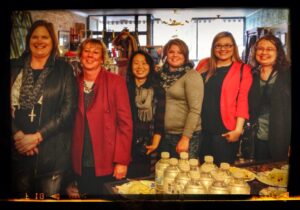 Pictured: Sara Broers, BethAnn Chiles, Jennie Flaa, Alicia Schmidt, Amy Hild, Donna Hupp
http://www.allinaniowamomsday.com/
http://bethannchiles.com/
http://jenieats.com/
: http://fitandfarm.com/
modernruralliving.com
donnahup.com
So … did it work?
Early results are a definite yes!  Three blog posts have been written so far, they tweeted, instagrammed, facebooked the entire time they were in town and continue to share online.  BethAnn Chiles was on the radio and talked all about the tour.
The hard part is tracking the results.  And frankly, it's not that hard.  First of all we used the hashtag #buywebcity.  You can go to these three places and search for the results of that hashtag:
You can follow us on our facebook page and we will keep you updated with the links. https://www.facebook.com/WebsterCityAreaChamber 
We will keep following and review again in a couple of months.  I can safely say it was a great day and we were pleased and honored to show the North Iowa Bloggers around town!
Have you considered hosting your own bloggers tour?  Here at Building Possibility we've done it several times!  If you'd like to hire us, please send an email to deb@debworks.com or give her a call on her cell phone at 641-580-0103!