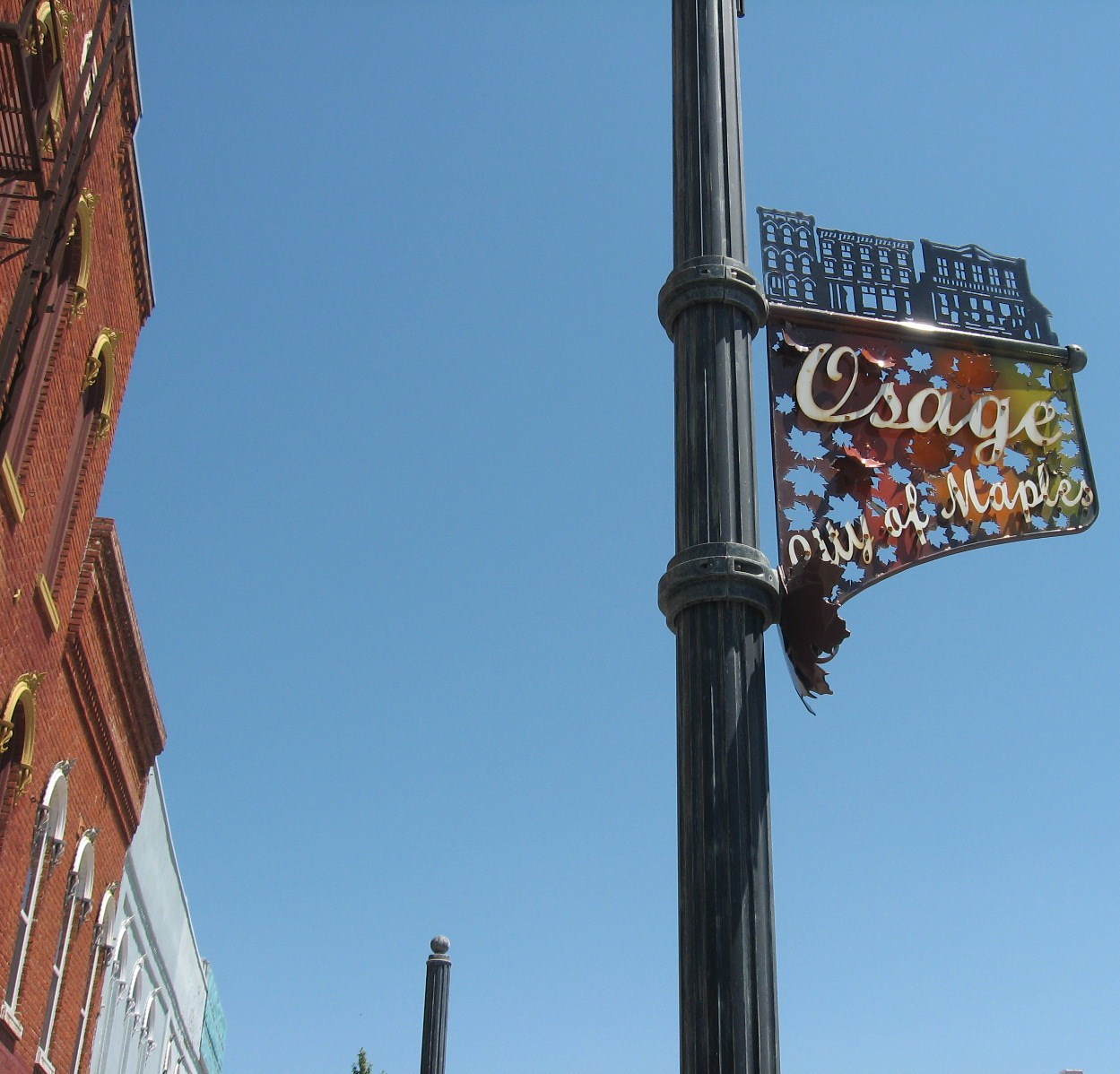 June 9, I traveled about an hour to visit a little village called Osage.  North Iowa Area Community College (NIACC) has kicked off a program for people to visit various communities around North Central Iowa.  They began with Osage.
With a population of just over 3,600 Osage was originally founded in 1854 and called Cora after the founders daughter.  Unfortunately, he never registered the name and a wealthy man from Massachusetts came along and donated 600 acres – a Mr. Sage.  Hence, a happy Osage came into being.
On our journey down the Main Street we were excited and enthralled.  The day began with coffee at Kountry Kupboard.  Lynn Peaster opened up this bulk food store and coffee shop/restaurant in 2001.  They sell industrial grade spices from Dutch Valley Foods in Pennsylvania which they repackage.  Kountry Kupboard makes their own homemade bread and the local grain mill prepares oatmeal for sale too.  You'll also find books, kitchen utensils, candies and of course – coffee.  Lynn originates from California and is a Mennonite.  He's also a brilliant coffee maker!  Lynn gave us a great tour and explained how the coffee is made in the area and the differences between espresso, lattes and americanos.  Finally, we got to sample the coffee and fresh caramel rolls.
Across the street is Turtle Creek Pottery and Glass.  They specialize in pottery painting, old fashioned candy and fused glass.  Quite the combo!  Judy, Mel and I decided upon the fused glass portion and made our own jewelry.  That's right – I broke glass, redesigned the broken pieces into something beautiful to hang around my neck and will pick up the completed piece of work in Mason City at their new store Market 124.  They also have a location in St. Ansgar.
A little retail therapy was in order next!  Emerson's on Main.  Ken and Diane Emerson own this lovely 4 story store that has clothing for everyone.  Shoes, clothing, accessories – they have it all.  Organized in a fashionable, easy to shop manner and loaded with one of a kind offerings, Emerson's has become a shining example for many small towns.  As part of the day, they gave a scarf to everyone who participated.
The Front Porch and a little wine sampling came next.  We found cards, gifts, candy, home decor and wine sampling.  Precious baby rooms decor and blankets and cute little things greeted us as we walked on.  Little shopping vignettes were well placed throughout the store.  Did I want to  sit in a rocking chair and read books by local authors?  Or how about feeling the luscious weight of beautiful jewelry as I decided which pieces would be perfect for my NYC trip?  Many choices awaited, and I could have spent a lot of time in this store.
CORA is housed in an old building with a turret, this historic Cleveland Hotel.  Five years ago this building was in disrepair and I wondered what they would do with it.  It's been repaired and the downstairs area has been turned into a store with high, tin ceilings, slate blue walls and an owner who just opened last summer and who understands how to make the customer feel scrumptious.  Lotions, fragrances, cute gifts, signs, candles and home decor that makes you want to go right home and rearrange your house with these new, lovely things!  It truly is a modern emporium.  Renae Mauser, owner, completed NIACC's FastTrac course and began her business. It's well worth your time to visit and enjoy a bit of beauty while you shop.
Need flowers?  Then visit Val Blossoms.  Owner Val Williams opened the store after her husband passed away.  Her young son was in the shop when we stopped in and had a chat with Val.  It's a sad story she has, with a nice ending.  Of course there are flowers and she does a lot of weddings, events and cool gatherings.  But the store!  It's a little oasis in a busy world – seats by a fireplace, a table to sit at and write notes, signage for sale and more.  Come to buy flowers, stay to peruse the other items for sale!
These were just a few of the places on the tour of Osage.  I suggest you visit the town for yourself, wander around Main Street and see what treasures you can find!
I am the area representative for NIACC in Hampton Iowa.  I was not paid to attend this visit to Osage, as a matter of fact – I paid $12 to be a part of it.  As did everyone else who enjoyed the day at Destination Osage. We also visited See 'N Sew, Gifts Galore, The Stitchery, Debbies and TelUWat for lunch.
We will be hosting Destination: Hampton on September 8.  See you there!
Information about the places listed above:
Visit http://www.discoverbulk.com/ to see what Kountry Kupboard has to offer, or drive to 709 Main Street in Osage.  641-732-5315
Turtle Creek Pottery and Glass is at 718 Main Street, www.turtlecreekpotteryandglass.com 641-832-2374
Emerson's on Main is 703 Main Street and you can find them on Facebook or call 641-832-3582.
CORA, a modern emporium, is also on Facebook and located at 618 Main Street.  Call them at 641-832-2672.
Val Blossoms can be found online at www.valblossoms.com and physically at 609 Main Street.  Their number is 641-732-5594.
There are many pictures on my facebook page as well.